Choosing Web Designer Agency is critical to ensure the success of your website project.
In this post, I'll help you make the best decision to choose Web Designer Agency. You can also download or copy the Evaluation Template at the bottom of the page.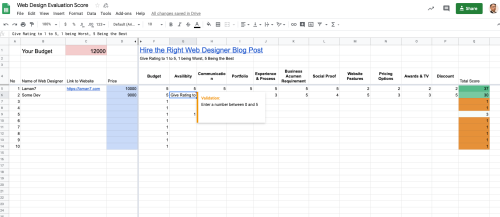 Let's get some fundamental right.
Web Design Objectives
"Start with End in Mind".
What do you want to achieve from the website? There are many things you can do and get from a website.
Here some sample objectives
Generate more leads
Drive more traffic to the website
Improve Customer Support
Company State
Secondly, you have to know exactly what stage are you in your business. There are 4 stages in total
Startup – Newly form. Have yet to sell any service
Growth – Sold product and services. Looking to scale
Mature – the Market knows you.
Rebirth/Die – Your market in sunsetting.
By knowing exactly where you are in business will help you determine the right website to build.
Three things you want from your Web Design project,
Completes on Time
Under Budget
Achieve Goal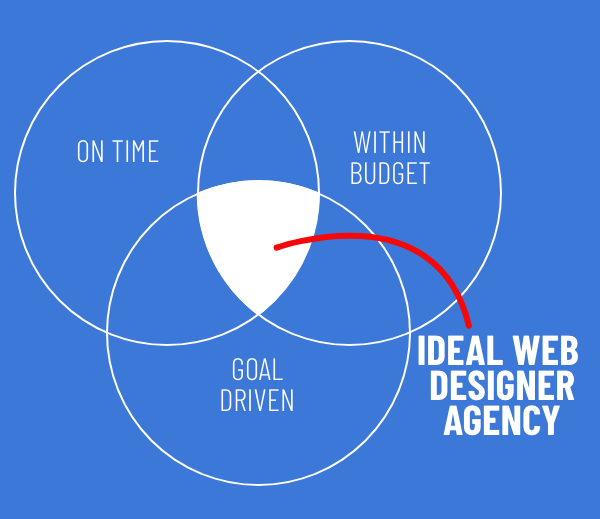 What every business wants, is to get the best Return on Investment.
[lwptoc numeration="none"]
1. Know Your Budget for Web Design
Most business spends 5-10% of their annual revenue on marketing expenses.
Expect to take out 30-50% off that fund to your website. A simple calculation for a company with RM 1mil revenue is to spend around RM20k – 30k for the website (inclusive of strategy, design, photos, images, copywriting).
Setting the budget helps to narrow the right web designers.
Freelancers can build a website for as low as RM900. But they may be too busy to entertain your 'small' request.
Hiring a web design agency may set you back more than RM 10,000. But you have backups-people in case the main designer goes on holiday.
Cheapest may not be your best option, likewise the most expensive. What you want is the result, not cost-saving.
Pro Tips: Be upfront with your budget. Ask, what will I get with RM X.
2. Availability of Web Designers
Ask how many projects do they have at hand. Ask if they can handle more load. More projects at hand mean lesser time to focus on your project.  (unless they are super good and you're willing to wait).
Like you, most business wants their website yesterday. But that's not going to happen.
You need to be realistic with the deadline. Large companies normally require top-level approval. Consider their approval too in the timeline.
Expect to pay a premium for a rush job (which requires the team to stay back).
Pro Tip: Ask how long will your project complete.
3. Communication with Web Designers
Brevity. Not too long, not too short.
This depends on you. Do you have a lot of time to speak to the web designers and want a lengthy explanation? Or you prefer a quick one-liner response from them? Do they speak accurately or takes a while to get to a point?
Tone. Strict or fun?
Do you want a web designer that speaks purely business (no kids stories) or side notes? Or pure fun with waves of laughter throughout the meeting?
What means of communication do you expect? Email, Whatsapp Group, and Telegram, or Only Phone call? This has to be established from the get-go.
Failing to get the message across may lead to a disastrous job. Avoid it at all costs by explaining head to tail what is it you want to achieve.
Pro Tip: Limit the communication channel to 2, email and WhatsApp group. Always, always have black and white communication. That includes Minutes of Meeting.
4. Web Designers Portfolio
Don't ask for a mockup, instead ask for their portfolio.
See whether the web designer's portfolio is aligned with your design taste. Does the 'looks and feel' pleases you?
Most web designers are good at copying. (At least that's how I learned.) Be sure to provide some website samples that you like.
Ask for their latest portfolio. Like most web designers, I am too busy dealing with projects, hence the portfolio page is a bit neglected. And normally, they would update the portfolio in other means, like a presentation slide.
A website is a process, not an outcome.
Pro Tip: Ask about the success of the website project they have developed. How many leads, sales & traffic generated? You want business results, not only design.
5. Web Design Experience & Processes
Years in business matters.
A 3 years experience website designer is never the same with 10 years.
More years, more expensive. They've done countless experiments, hit many walls, split brains, they know what works what doesn't.
This does not mean lesser experience can't get the job done, they are in fact more agile, flexible and hungry. If you pay them, you are willing to experiment with their method (may take a longer time but cheaper).
The experience ones would have established workflow, stable and proven system, checklists, dedicated teams, organized project management. If you hire them, you pay a premium to reduce the risk of hiccups.
Pro Tip: Assess the risks that you are willing to take and budget you have. Ask about their Detailed Web Design Process or Roadmap.
6. Business Acumen & Requirement
Definition from Wikipedia https://en.wikipedia.org/wiki/Business_acumen
"Business acumen ("Business savvy" and "business sense" are often used as synonyms) is keenness and quickness in understanding and dealing with a "business situation" (risks and opportunities) in a manner that is likely to lead to a good outcome."
Be open to answering business questions from web designers. They need to know how your business works.
Work with those who understand (or at least try to understand) how your business works. The more knowledge they have about your business, the closer they can take you to your goal.
Most established web designers & agencies I know have sharp business acumen. So eliminating the bad apples is very easy.
You also need to come up with project requirements, but we'll do that in a new blog post.
Pro Tip: Hire the ones that try hardest to understand your business.
7. Web Design Social Proof & Social Obligation
There are several ways to do this, but I like to limit this to two, Online Ratings and Recent Post on Social Media.

Laman7 rating on Facebook and Google.
For Online Ratings, you can check Google Reviews or Facebook Page. Read what other customers have written to them. Skip the short one's line, "Good" or "Excellent", we can agree those are not helpful comments. Read the replies if they are rated poorly. Sometimes Spammers would leave a comment for no good reason.
While most web designers don't have time to write a lengthy blog post (like this one) they often share on Social Media. Whether they curate content, shared a link, share quotes, or videos, as long as they are updated.
Think of it like a heartbeat. If there's no content, then the company is probably dead (or facing serious marketing issues).
what matters is not the frequency or number of likes, it's the consistency and quality.
Social Obligation is about giving back to the world. Do they volunteer, do CSR, host intellectual events, share knowledge, share ideas, sparks interest? If yes, that's a winner.
You want to work with these web designers because they have a bigger goal, "saving the world" and they are selfless. They pour their hearts back to society for free. Imagine if you paid them.. how far will they go for you?
Pro Tip: Look for the ones that sparks inspiration, educate consumers, creates value.
Bonus Round – What Not to Prioritize in Hiring Web Designers
8. Website Features
When it comes to the technical aspect of it, it's either CAN DO or CAN'T DO.
I wouldn't be too hung up on features. Because there are a thousand ways to get it done. It's all a matter of research. Features are not unique, someone, somewhere out there has probably created something similar. I will never need to reinvent the wheels.
Pro Tip: With every feature, ask yourself, will it help get you close to your goal?
9. Pricing Options
Web Design is a service business. It's not a product. Nothing like McDonald's where you can decide whether it's Chicken or Beef Burger. Whichever way you choose, it's ultimate does the same thing, it's food.
Picture this.
It's 4 PM and you need to get the airport by 5 PM. Does it matter how you get there? Do you need a limo, does it still matter?
While it may be good for you to have options, it's just going to add more clutter to your brain. Adding more parameters to evaluate.
10. Web Design Awards & TV Appearance
Yes, awards are cool. You can trust it. They deserved it.
Let me ask you this, do you like every single Oscar-Winning movie? I don't know about you, but I hated the movie "Moonlight". It took me 3 attempts (I slept midway) to complete the movie. The movie did not resonate with me.
The award-winning website is designed to do one thing, Win Awards and Look Good.
I'm not saying it's not good, it's just not your priority.
(Yes, I've appeared on TV, I was really nervous.)
11. Web Design Discounts and Cheapest
I'm not saying that you should avoid completely (sometimes I am cheapest to my competitors, haha). It's not your priority.
In order to be cheapest, something has to be trimmed. Whether it's a software license, stolen artwork, cheaper workstations, digital nomad (work from Starbucks), attentiveness, timeline, features, template. Basically there will be something lacking.
Ask why are they the cheapest and how did they do it.
Most of the time, there's a strategy. (Ahaa!) They might want to upsell you with other complementing services (which is compulsory), limited time only, limited features. etc. You will get the answers when you ask.
Bonus Round
Go to this Google Sheet, and make a copy of the evaluation criteria. Feel free to add more fields.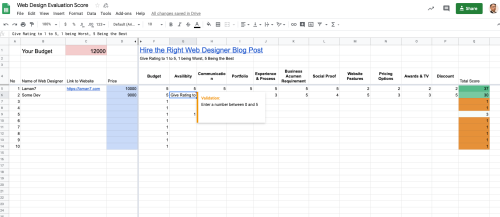 Want to Generate More Leads from Web Design in Malaysia? Make an appointment.
Summary – Choose Web Designer Agency
Choose the ones that will help you get to a higher state in your business. Choose a web designer agency that is aligned to your goal. Choose web designers that argue with you as if it's their own business because they have a genuine interest in seeing you grow.
Don't choose because they are the cheapest (unless it's necessary), promises you quick turnaround time (they use generic templates), the ones that sweet talks you (you know when you came across one)