As a web design agency in Malaysia, we have quite a number of internship applicants. Here's our take on how to apply for an Internship at Web Design Agency.
The overall process, Find > Engage > Prepare > Interview > Ready for the Job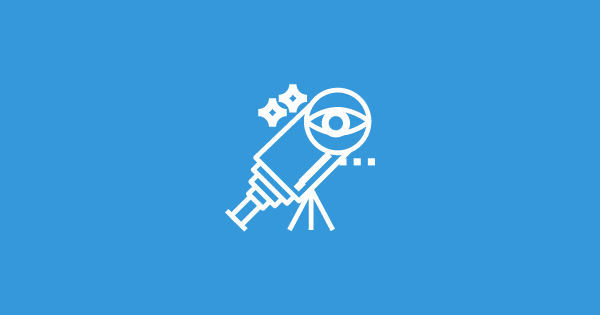 1. Find the Right Web Design Agency for Internship
Find the Right Web Design Agency to do an Internship. Create a list of companies you want to do your internship. Here's what you can do
a. Create an excel sheet. List down the Web Design Agency vision, what they stand for. Research deep, go through their portfolios.
b. Check what every Web Design Company does. Make sure they're aligned with your course and goals. Different Web Design companies have different priorities, like designs, coding, development, etc.
c. List down the email and contact person. Speak to Human Resource or Admin, NOT to sales.
d. Write about why you believe the web design company is for you.
e. Write about how you can help the web design company (it's not about taking/learning, but giving).
f. Calculate the distance from your accommodation to the Web Design Agency. Plan the routes in advance so you won't have a logistical nightmare.
Understand the process of registration. Different web design companies use different methods of application, email or web forms.

2. Engage with the Web Design Agency
Once you've narrowed down the list, it's time to initiate contact.
Call them at an appropriate time (office hours) and be prepared to speak to the person in charge to apply for an internship. Introduce yourself, where are you from (University) and the reason why are you calling. Always seek to speak to HR or Admin.
Take note of every detail provided by the HR or Admin.

3. Preparation to Apply for Internship at Web Design Agency
Before you submit your internship placement, prepare all these accordingly:
a. Use a professional, clear email address.
For example muhammad.abu@gmail.com.
b. Prepare the Documents
Writing paragraphs in an email must be precise and clear. Short and simple; introduce yourself, what course are you taking (i.e. Bachelor of Computer Science in Software Engineering), state what position you're interested in and attached these documents:
a) Cover Letter. A well-written cover letter should highlight relevant skills and experiences that make you the best fit for the role. Include this information to meet the goals
i)    State the exact role you're applying for
ii)   Introduce yourself and notify your course
iii)  Call out relevant skills
iv)  Explain why you're a good fit for the internship
v)   Describe what you feel you would gain from the internship
vi)  Put your contact information (e-mail address & phone number)
vii) Review your cover letter before sending
b) Updated resume. Come up with the latest resume of yours including your picture, up to 2 pages max. Try to not cramp everything with long words and information. Make it simple and neat.
c) Transcribe of subjects (Your relevant coursework)
Here's an example of a transcribe of subjects.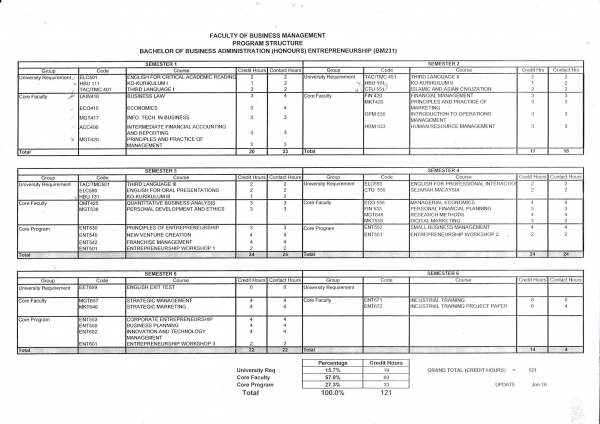 Note: We don't care about the scores. We just need to know the subjects you learn and ensure it's relevant to web design agencies.
For example, a business student is looking for an internship place; a marketing position. Some of her subjects are relevant to what Laman7 seeks for thus she is applicable since her subjects meet with our criteria.
d) Online and Offline Portfolio
Online Portfolio
Web Developer – Share links to your projects. Don't send raw files or Google Drive Folder, no one wants to install and run your program on their development server.
Graphic Designer – Share links to your Online Portfolio. Use SlideShare, dribbble.com or behance.net.
Marketing – Share your writings, report, business plan, an Instagram account in PDF or links.
Offline Portfolio
Graphic Designers – Screenshot your artwork. Stack your work using a timeline (old to new).
e) The Application Letter (Approved by your Campus) The picture below is an example of an application letter approved by the campus.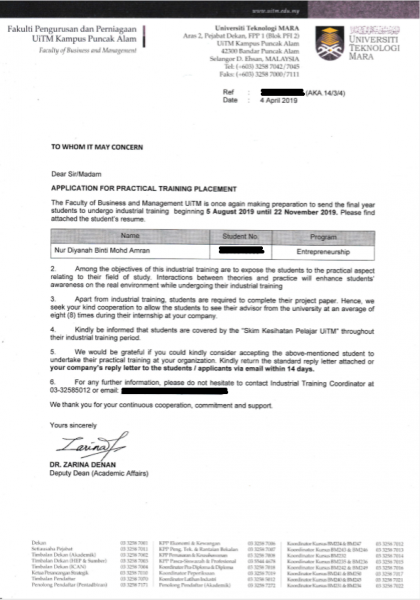 The picture below is an example of a student explaining her details like name, what course she's taking and her contact together with the required documents attached.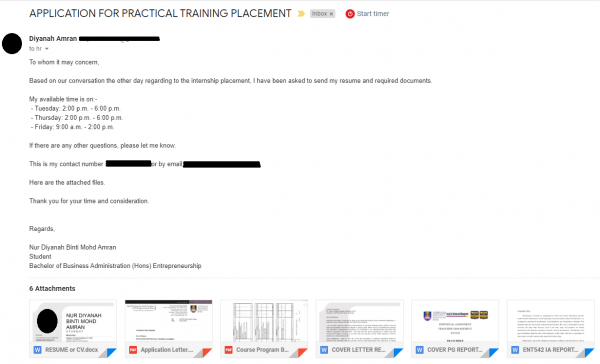 c. Social Media (highly recommended)
Providing your social media is a bonus for us to get to know you better. It is not compulsory. Share with the web design agencies your Facebook or LinkedIn link. Who knows you might be friends with your employer?
Curate your social media. Delete or hide duck-face selfies, Winner-Chicken-Dinner, political affiliation, vents, waves of anger, and negative remarks.
How is this relevant? Well, for sure, we wouldn't want to onboard negative people on the team. That would be a total nightmare.
d. FYP (Final Year Project)
Share your FYP and appraise the difficulty of it. Explain in the simplest way about your FYP. Be prepared to get questions.
Reminder: E-mail is your first impression. An employer who finds passionate and professional candidates will definitely consider you. Compose one email to one email address only.
Important note: Follow the instructions/lists given to avoid any misinterpretation.
Now, send that email. Download The Checklist here

4. Interview with Web Design Agency
i. What to Prepare for the Interview (Phase During)
a. Answering big questions with full preparation. Answer this question to yourself: "Why do you want to join?"
b. Your goal & dream. What is your goal? What do you want to achieve? Be specific sowe can help.
c. Read about the company you are applying for. Many applicants applied for an internship at the very last minute and unprepared. Do research using the internet or networking.
d. Provide us your daily logistics and current situation – Where do you live? Do you have any transportation to come to work?
e. HTML/CSS skills for Web Dev Students – Learn about it first before you join any Web Agencies company. Generally, a web developer acquires a few basic web languages (coding) such as HTML and PHP. Does it align with what web design agencies can teach and what you can learn?
f. Portfolio for Designers students. Bring along your best portfolio with a systematic date. This is to see the improvement and consistency of your work, from time to time.
"Tips: Bring your artwork, justify design, which you most proud of and explain. Make sure your portfolio is neat, organized and contains professionalism work."
g. Writings for Marketing/Business students. Web agencies want to see your writings that are comprehension, correct grammar, word construction and stacking sentences. Those who love to read and write would have the upper hand.
Some companies will conduct a phone interview only, a one-on-one interview only or both.
ii. What Not to do During the Interview
a. Be nervous – when you are nervous, you can't think, words won't come outright. Just relax, we're humans too. We're not British Got Talent judges.
b. Lie & Boast – Be honest, tell us what you lack and what you are really good at. Everybody starts from zero too.
c. Be passive – When an interviewer asks questions, refrain from one-liner answers. Elaborate more about it. If you don't understand the question, ask again.
d. Not ask questions – Prepare a bit of question for us. Ask tough questions that related to the company. It will impress your interviewer.
iii. What Not to Worry About
a. Language: English and Bahasa. Doesn't matter what language you're using, be confident. It is good to practice English when speaking to develop your communication skills.
b. Tests (if any). Normally web agencies provide basic questions related to your course.
iv. What Web Design Agency Look for in Candidates
a. Communication skills (say what you mean). Try to not be overconfident, especially when it comes to the level of knowledge about the company. Other than that, web agencies want to see how you communicate with your likelihood employer and working in teams.
b. Attitude. The number one thing about someone's behavior, your attitude. Web agencies want to have someone who is positive and humble.
c. Determine bigger goals in life. As for web developers, your goals normally to be an expert and as for web designers, you would like to receive bigger projects in the future. These candidates are most likely will be accepted.
4. Being Passionate. Prove that you want to do the internship with the company and not only to pass your standard academic program.

5. Ready for Work at Web Design Agency
Check your email to see whether you've received the job before you call to confirm your placement.
An Internship is the first step to Adulthood, so pick the right web design company to work at. Grow your skills, expand your mindset, be open to receive critics, make mistakes and learn from it (don't repeat the mistakes).
Best of luck.
We are sorry that this post was not useful for you!
Let us improve this post!
Tell us how we can improve this post?