tldr: There are no low-hanging fruit. Focus on long-term goals.
Intro to Marketing during Covid-19
I'm going to skip the part of how Covid-19 started and what has brought the nation to an economic halt. Let's talk about Marketing During Covid-19.
I'm also going to state that I am no economy expert, it's based on my observation as a business owner and marketer (I did Managing Consultant in my previous work).
Malaysia government introduces MCO (Movement Control Order), where no one can get out of the house to go work. It has brought business down to its knees.
When Will MCO Be Over?
A report by JP Morgan and MIERS (at the point of writing), the number of cases will increase to 6,300 by mid of April. Which means an extension is on its way. It may not end on 14th April.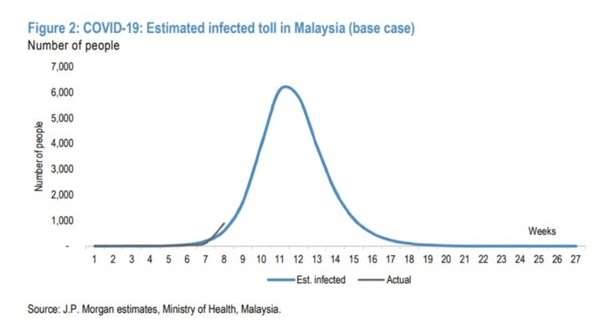 (pardon the quality, this is from twitter).
What People Are Doing During MCO?
The first two weeks (22 March to 1 April), people are chilling. Binge-watching Netflix, Youtube while keeping updated on the Covid-19 outbreak.
At the same time, the Government encourages online purchases over conventional walk-in to reduce the amount of contact. Lesser change of hand, lesser infection.
What Are Consumers Expecting from Businesses?
Consumers want to buy things online. Which means if your business is not digitally ready with an eCommerce website or on an online mall (Lazada or Shopee), then you are stranded.
At the same time, people are not too keen on purchases due to job insecurities. People want to spend money carefully.
People choose necessities over luxuries.
Food safety becomes a priority. Probably the main reason for panic buy. Bread, eggs, pasta sauce are sold out. Consumers are stocking up despite reassurance by the businesses.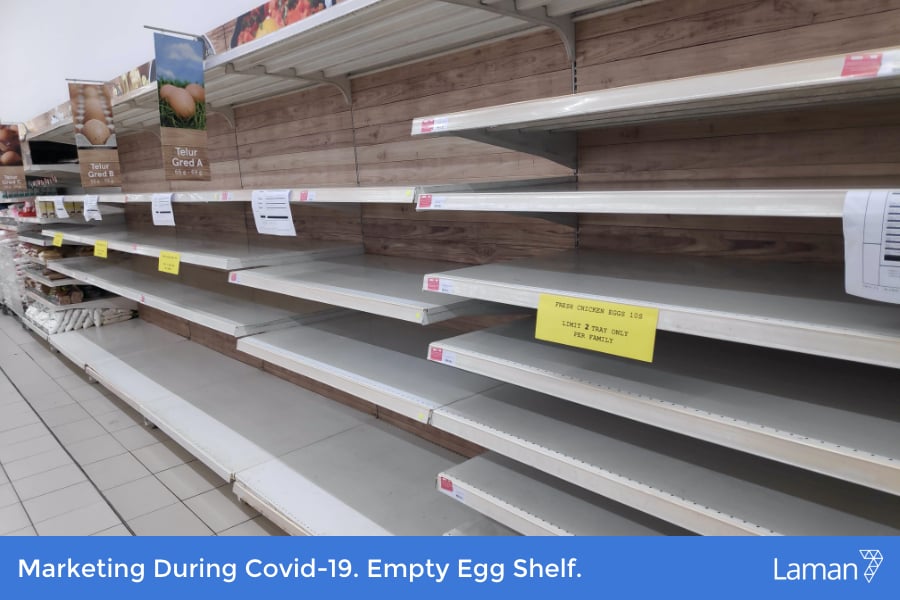 My attempt to get eggs at Tesco, fail.
What Your Competitors are Doing?
Depending on business it could be thriving, especially those in the medical line, selling hand sanitizers, face masks, ventilators etc.
Consumer Businesses: They are slashing prices. The trend 'strategy' is to clear stock as quickly as possible before the situation gets worse.
Take for example Realme and Mi phones. They are slashing prices for a new phone!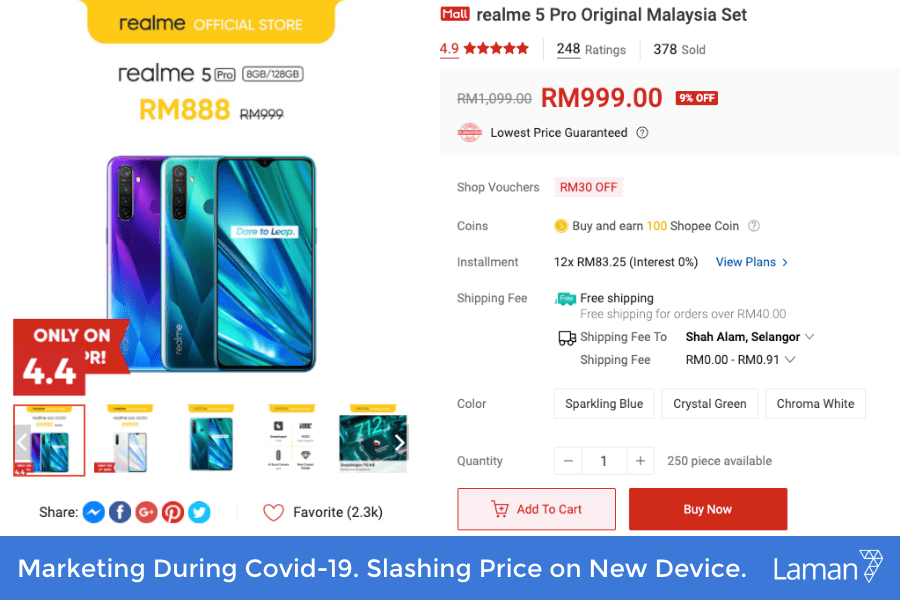 But that is just an example of how far a few giant companies would do. What about the smaller ones?
For F&B businesses, it's not exactly great, but better than other retail stores. However, some even consider shutting completely, as orders can't meet the monthly overheads.
Restaurant Businesses: Those who are not on a Delivery platform (grab, foodpanda, bungkusit), are applying to join.
Take-a-ways became the new norm (because the Government) enforced it. However, it's nowhere near their typical sales.
B2B Businesses: Those who are on recurring business, it's great. They just continue with what they have.
But most new projects I know are at a halt. Because businesses are expected to pay full salary despite working from home (we both know that's not really effective). Therefore, they are not too optimistic about new shiny objects.
Generally, most businesses will be slow during Covid-19 MCO, almost at standstill.
What Marketing Can You During Covid-19?
We are not ready for a pandemic. Bill Gates said this 4 years ago.
You are left with very few options.
Do marketing, get more customers or die trying.
Don't do anything, wait for Covid-19 to be over and hope for the best.
I am not a fan of hope.
Hope is Not a Strategy. - Vince Lombardi
Which leaves us with option 1, do marketing. Here's my take on Marketing during Covid-19.
The goal is not to close the deal, but to create as much touch point as possible. So that when the dust settles, and they are ready to buy, you'll be on the top of the list.
Goal: Create Awareness & Deepen Relationship
7 Ways to Do Marketing During Covid-19
1. Content Marketing - SEO
While you are working at home, create evergreen content around your products and services.
Architectural services, write "how to choose an architect for the right structure".
Construction Engineering services, write "The process of before, during and after hotel constructions"
The key is to educate your potential customers. Write or make content that would greatly benefit them.
I would start with a content pillar. Chances are you are not selling a single product (even if you do, it can still work). Also known as a "hub and spoke" model.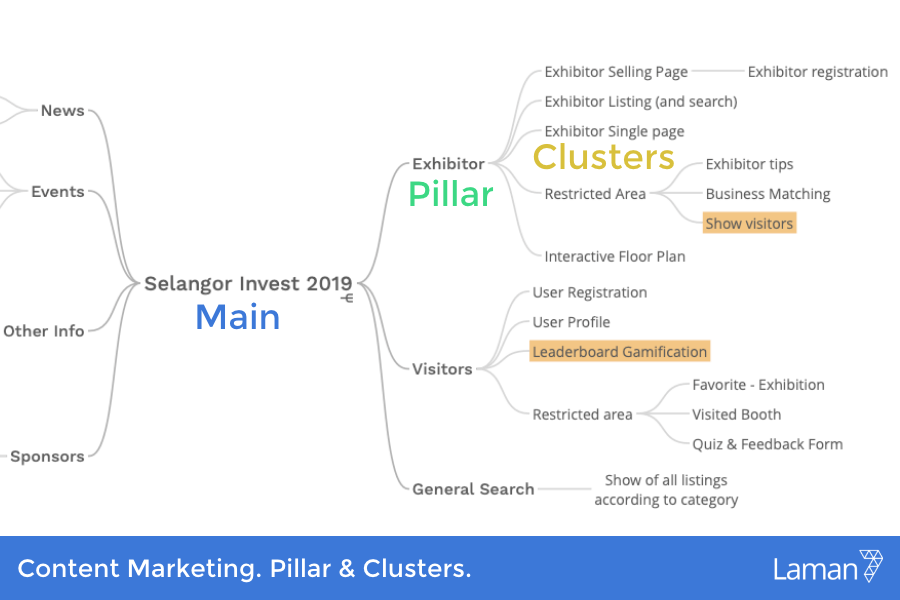 Choose a few pillars (they are your product or services), then the clusters or sub-category surrounding or relevant to it. I prefer to use a mind-mapping method as this gives a bigger view of what I am about to write.
Finally, fill in the suitable titles for every cluster (sub-category).
Start writing. Publish it and edit as you see fit. It's difficult to start, but once you build momentum, you will be unstoppable.
Don't want to think too much about SEO? Hire SEO Malaysia Experts.
2. Fix Your Marketing Funnel
If you haven't got a clue what Marketing Funnel is, then this is the perfect time to learn. I've written in great length about the Marketing funnel, from Stranger to Advocate.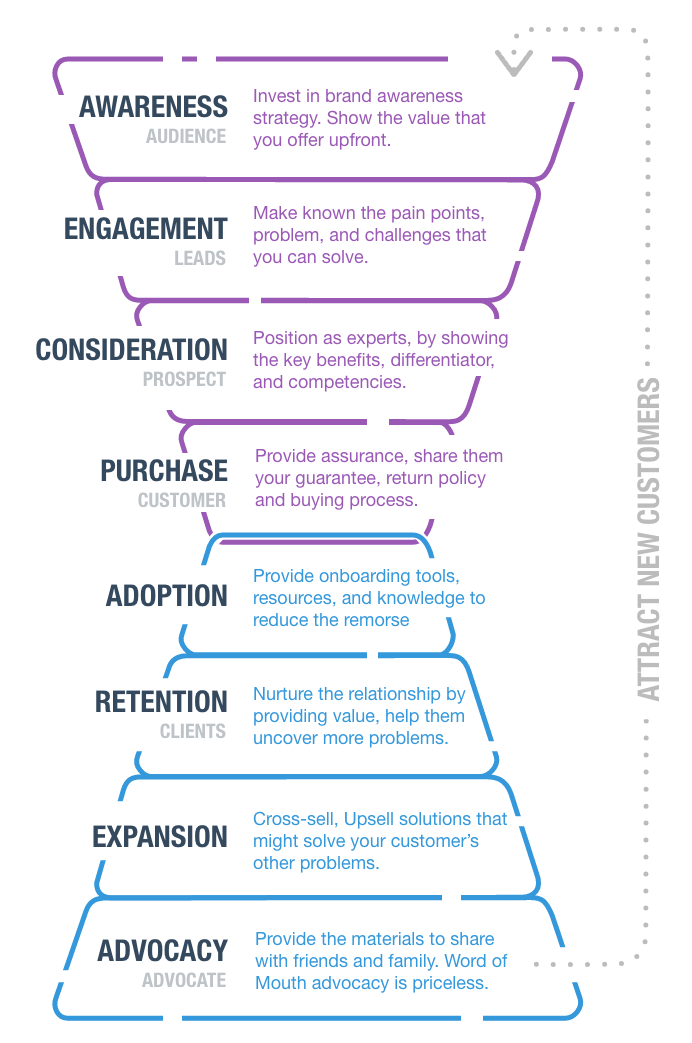 Note: Marketing Funnel, Sales Funnel, Flywheel, Inbound Marketing may differ in shape but they all share the same concept, qualify strangers to advocates.
The key to fixing your funnel is understanding what is broken or faulty or leakages.
You would need to see statistics (numbers) here. Here's what I did, build a dashboard using Google Data Studio.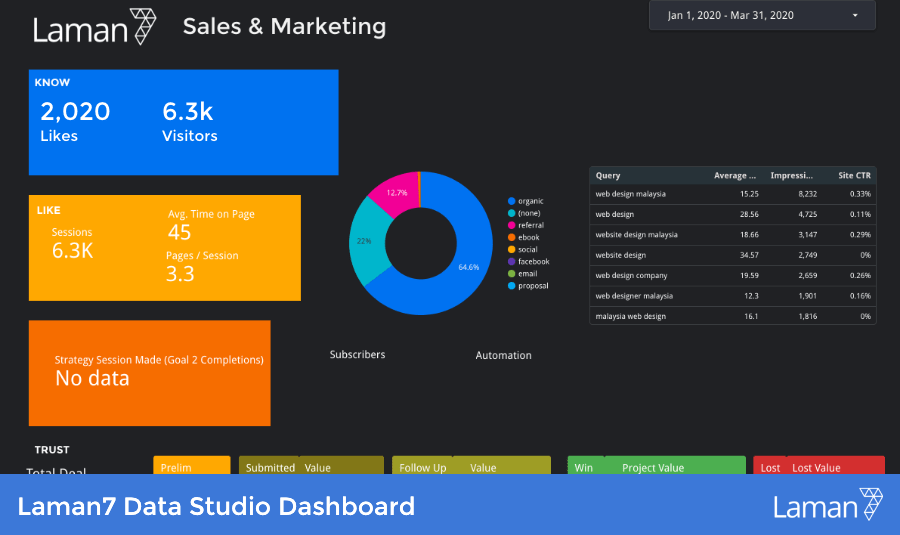 (The dashboard is not ideal yet, I'm being cheap on integration and do not want to pay USD 200 to get a few data)
The next step is to find the conversion between each stage and drill deeper to understand what you are currently doing and how you can improve it.
If you don't have the numbers, then you need to find a reliable CRM, I went with Hubspot. They offer free for the first 2,000 customers or contact CRM.
I would start with building and fixing the landing page or sales page because this is where the money is. Next, write blog posts to support the sales page. Finally, I do social media posting.
Whenever you need you need a new website or web redesign, you can work with us.
3. Do Paid Marketing
Remember, the goal is to create awareness and deepen relationships.
Now that you've created content, it's time to get traffic. You can wait for Google SEO to kick in, but that would be too slow. The next best option you have is to pay for it.
There are a few ways to buy traffic. Facebook Ads and Google Ads.
I'm not going into the technique of creating an ad, you can watch it on Youtube on how to set up the ads and everything.
Now, get them to see you first and start collecting 2 things: Marketing Cookies and Email.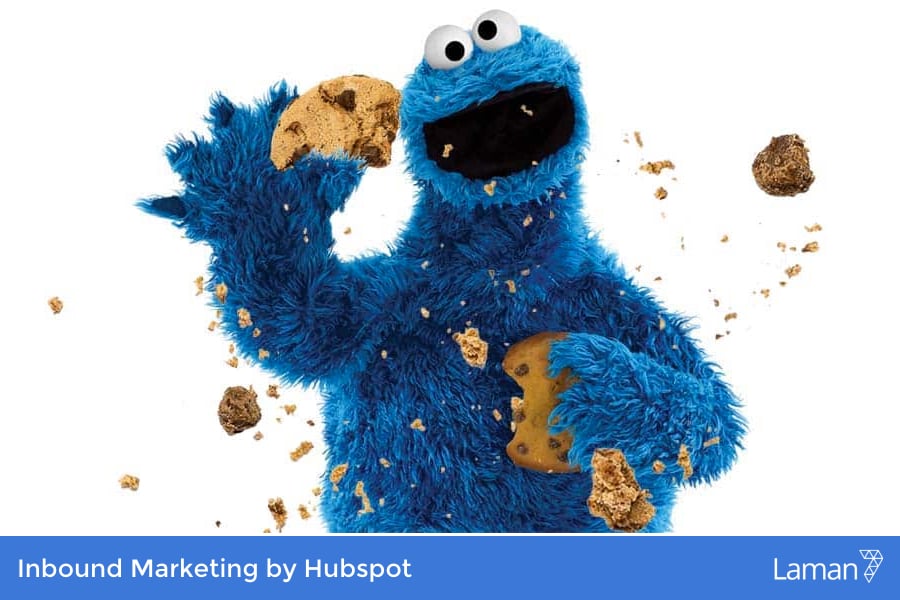 Marketing cookies are used to target advertising to a user (behavioural targeting). They are often served by third-party companies and track a user across websites.
In simple terms, Facebook Pixel and Google Remarketing. You can search how to set this up or get your technical people to do it for you.
In order for you to get your visitor email address, you are going to need more than a compelling blog post, you need a lead magnet.
I will explain that later in this post.
4. Re-engage with Your Audience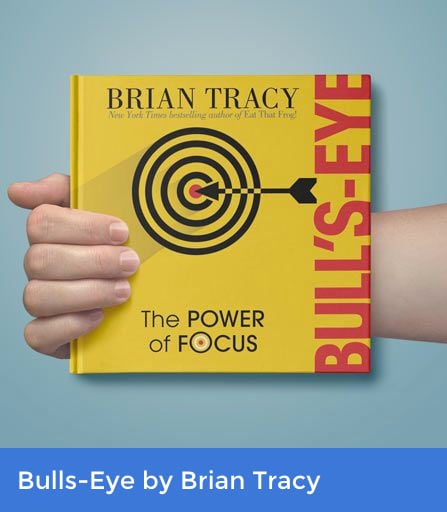 In the book "Bulls-Eye" by Brian Tracy, there's a lot to learn, but the key takeaway here is,
"If you want a better life, do QxQ" - Brian Tracy
Quantity of People x Quality of Relationship. That is the number of people or network and improve your relationship with them.
I'm sure you have a long list of customers stored in Excel sheets or any database format. It's time to use it.
It would be utterly weird to send out an email if you've never sent one since their purchase or last project. That's ok, that's infinitely better than not doing anything.
What do I write or say? Good question.
Let's go back to our goal: to deepen relationships.
Therefore, DO NOT SELL ANYTHING.
Instead, ask about them. How is life? How is work from home like? Share tips (it doesn't have to do anything with your product). Share funny videos, images etc.
Remember the first date with your spouse? Did you immediately ask to be boyfriend/girlfriend? No. You asked "what's the time" and that was lame.
But that's how a fire starts, with a spark. It gets bigger when you fan it.
Use first-person pronouns. That way you connect at personal (people-people) level, rather than brand-people. It sounds more authentic.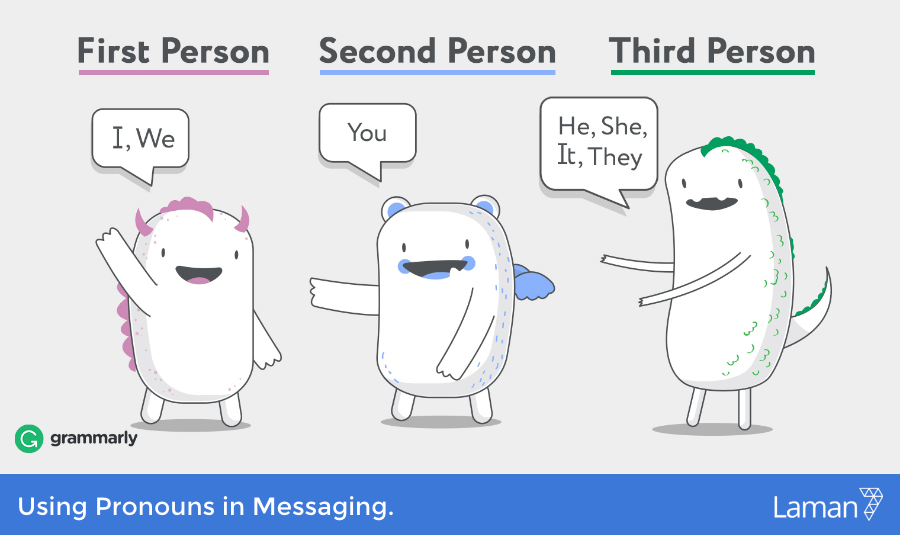 You can do this through mass-email, Direct Message (Whatsapp/ Telegram) or through calls. Take a pick. No right or wrong, only wrong timing.
If you haven't got a list, then it's time to build it. Start collecting from Whatsapp, Phonebooks, Emails. Create an Excel file or use Google Sheet.
5. Plan Your Social Media Post for the Year.
Your buyer attention will be scarce during MCO, they will be fixated on either the News or Entertainment and sometimes looking after the kids (I've got two and I'm pulling my hair).
It's the perfect time to plan your social media posts because they are busy consuming other media.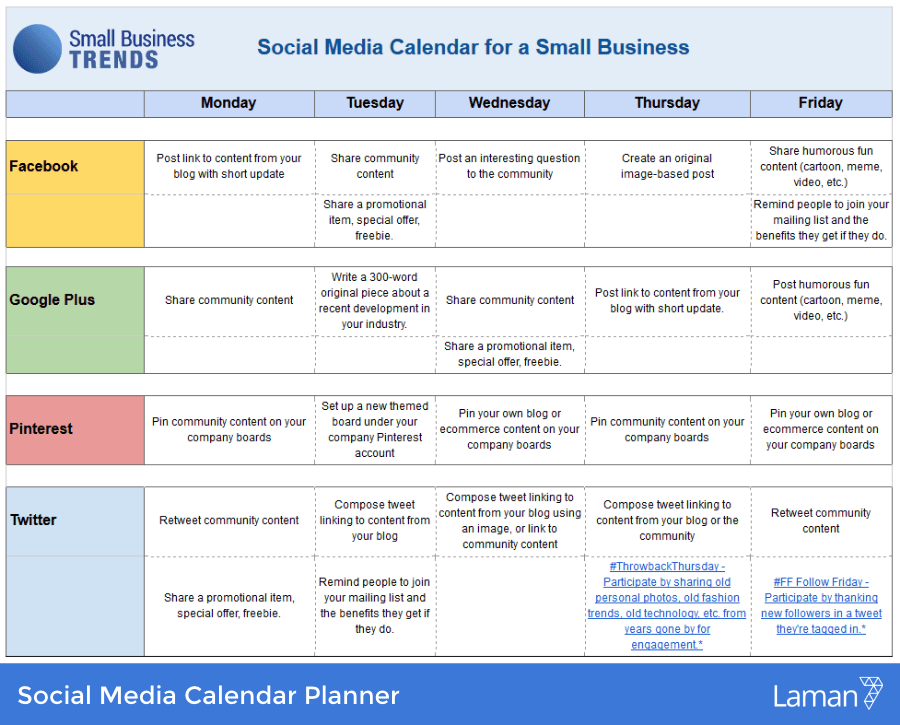 I like to plan for 3 months in advance and do social media postings automatically.
Here's how I do it.
Go to an old blog post (or a new one), take a few points of the blog post and use it for social media posting. It could just be a quote from the post, or statement or graph.
Schedule it on Postfity and call it a day. (You can use other services like Buffer, Hootsuite etc). You would need to link all up to 5 accounts, Linkedin Page, Twitter, Facebook Page.
Doing it one by one would be difficult, instead plan it on Google Sheets. This way you get to see the process as a whole and do it by batch just like making a dozen cupcakes (instead of baking one at a time).
For the images, you can use online tools like Canva. I personally prefer to do it on Adobe XD. I get to see the bigger picture. (I'm a big picture guy)
The goal is not to sell. It's just to tell people that your business is alive.
6. Create a Lead Magnet.
How to steal people's email? You bribe them.
I bribe my visitors with high-quality content through the ebook. There's an elaborate process to produce an ebook, but you don't have to do it my way (I'm a perfectionist).
Instead, offer Check Lists. They are the easiest to make without any special tool. All it takes is Microsoft Words and save it as PDF.
You can get inspiration easily from Pinterest or search for a business that is similar to yours. Download it and improve on it.
"Good artists copy. Great artists steal." - Pablo Picasso.
Having said that, check out my ebook on Getting More leads from your website.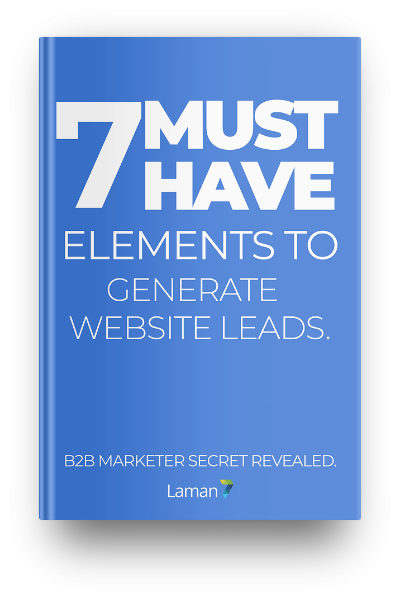 There are a lot more Ebooks, go-to the resource page.
7. Surveys and Planning Your Next Move
The last recommendation for marketing during Covid-19 is to do surveys.
These are not general surveys, the ones that you tick in forms. But the ones that you call and get them to talk about your service (at the very least write).
Normally, once we're done with a project, we'd interview the customer. How was our service? Does it meet their expectations and how can we be better?
The feedback was brutal, but that's what we're exactly looking for, honesty. If they can be honest with us, it means they trust us.
"Your most unhappy customers are your greatest source of learning" - Bill Gates.
As a result, we built a 'customer dashboard' to show exactly where we are in the project, timelines, pending payments etc. Now customers would know exactly what has been done, and what's coming up without breathing down our necks.
Conclusion Marketing during Covid-19
The pace of purchase might have reduced significantly, but that doesn't mean you should too. Consider this MCO period to reflect and move slowly towards building your marketing infrastructure.
Selling is not a matter of how, it is a matter of when.
They (buyers) will come when they are ready, the best you can do right now is be their silent champion.
 21 Marketing Strategies During Tough Times
Download Marketing Strategy During Covid19