Challenge:

Confusing Website, Slows Down Sales Team
SIRIM QAS International sdn bhd
Technical Issues. Poor Messaging. No Clear Directions.
When they reached out to Laman7, it was clear that they were having technical issues with their website. Slow-loading, poor messaging and poor navigation were among the apparent ones.
Too Many Unproductive Sales Calls to Bear
With the issues on the current website, they were faced with one critical problem that slows down the sales team. Sales teams were burdened by lost visitors on the website asking help to navigate the website.
The slow website speed was also slowing the website down gaining complaints from clients and dissatisfactions. This causes the sales team to become even more bogged down to entertain questions from frustrated clients who couldn't find the information on the website.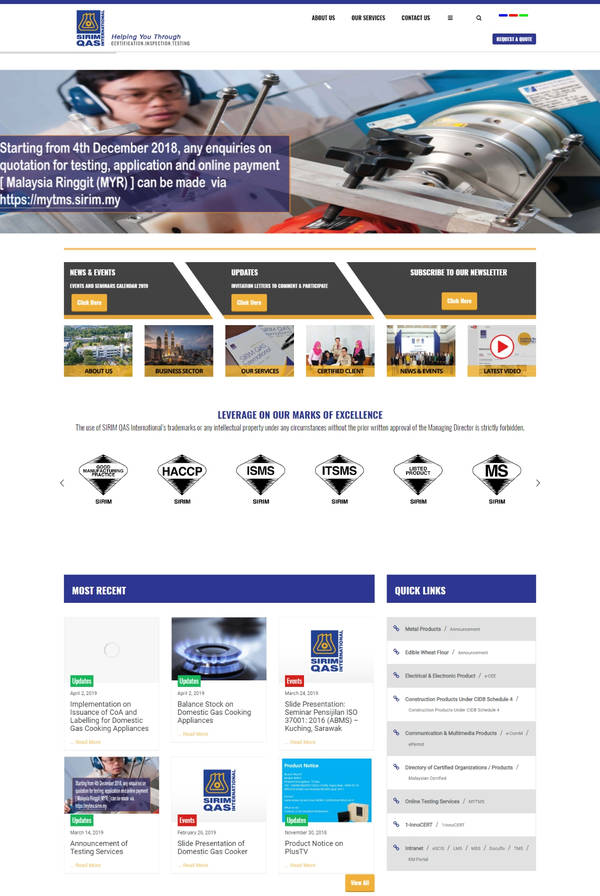 As excited as we were to get started, we had to start with Web Audit to kickstart the strategy and re-design conversation. We did a thorough analysis, covering Design, Marketing, Technical (Speed & SEO) & Web Traffic Audits.

We found that there are a few touch points that needed to be improved. However, we grouped them down into three main things; Speed Optimization, User Experience Improvement and SEO Optimization.
Right off the bat we knew the speed was problematic. It was costing them their SEO ranking. We scraped off everything it was built on and changed the WordPress environment into our theme and standard plugins. Optimized images. That, alone, resulted in 83% speed improvement.
User Experience Improvement
This part is all about content organization. We conducted a survey asking the stakeholders and website users to help us decide content priority. The major thing we changed is organizing the services from category to by industry. This way, it will also help those who are less familiar with certifications to navigate their way.
On-page SEO is important to SIRIM-QAS as the pages need to appear on relevant keyword searches. We make sure that the structure and content follow SEO's best practices. As this website has been around for a while, it is quite easy to rank on Google as long as we do everything right.
More Productive Sales, Lesser problems.
The new enhanced website has helped the sales team to focus on quality sales enquiries, freeing their time for more productivity. Based on the analytics, we also found that web visitors are now able to locate the services within 2 clicks or less – which is a significant improvement.
We are glad that the website helped them achieve their goals. Laman7 is now maintaining the website on their behalf.
Want to Generate More Leads?