Challenge:

Outdated Website, Zero Leads Generated
Tamura Transformers sdn bhd
Transformer Demand is decreasing. Company needs to pivot.
With the evolving technology, demand for commercial type transformers has fallen due to a lot of devices nowadays no longer require transformers. This has forced Tamura to quickly change their marketing and sales strategy to shift their focus to industrial transformer instead of commercial transformer.
Ranked 32 on Google.
Outdated Design.
Factory Production is Not at Full Capacity.
Tamura old website was ranked at 32 in Google (that's on third page) so they are not very visible online. The website was also very outdated since it was built in the 90's. So, not only we needed to improve greatly on the SEO, the look and the feel of the design needed major upgrade.
Because of this, the company is struggling to generate new leads. With less leads and revenue, the company struggles to maintain full capacity despite having full production team on payroll.
After just two short meetings and getting to know each other, Tamura appointed Laman7 to help solve the problems.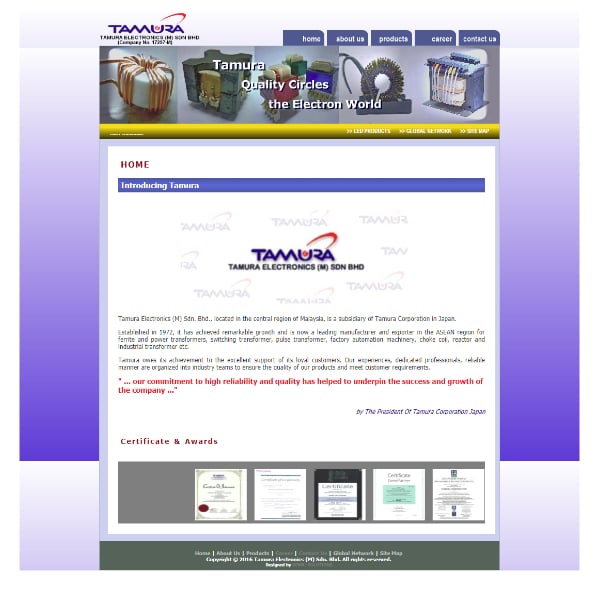 To create a website with complete narrative around the concept of "Behind the Scene", showcasing the strength behind Tamura in production high quality transformers without the common drawbacks.
The plan includes, being clear in message, delightful design & compelling photography.
We improved the messaging to focus more on 3 key points that makes Tamura stand out from the competition. During this exercise we did competitor analysis and strategy sessions with Tamura, unearthing their unique positions.
Delighting Audience with Design
We went with off-grid asymmetrical design to make the website look more forward and interesting. Photoshoots and images were planned to integrate seamlessly into the design to add impact into their message. 
Storytelling Through Photography
Photos were planned to ensure it captures and supports the new messaging – diversified team of workers, care in quality products, and friendly staff. The result thoroughly enhanced our design and message. Never underestimate the power of high quality photography.
We start with researching the keywords, planned the content and tell Search Engine what this website is truly about. Tamura website rose from Rank 32 to top 3 for their desired keywords.
Edwin Masripan, Marketing Director at Laman7 explained: "This project was unlike any other we've done. Prior to this, our goal was to build 'just' a website and delight audience. This was our turning point into helping companies gained more from Web Design, instead of being another expensive business card".
Right Message
+ Right Audience
+ Right Keywords
= RM 10 Million New Revenue
We were thrilled to have gotten phenomenal results for Tamura. Tamura jumped from page 3 in Google results to Page 1 in just ONE month. 2 months later, the result came in top 3. Revenue wise, they gained additional 10MIL revenue within less than one year since the new website launched. And their production? Fully back-ordered for 3 months.
Their quick response to the evolving landscape in their industry has managed to avoid them from losing the market share in industrial transformer. Additional leads meant they were not losing on opportunity to participate in biddings.
Want to Generate More Leads?
Aisyah Rozi, Syafiqah Izlyn
Izzat Nazri, Syamimi, Nadiah