B2B Website Design is Easy
Building a B2B website is easy. It really is. You can just use Wix or even save your Words Document as HTML,upload to your server, then you have a website. However, creating a website that is great (especially for B2B), is another story. There are elements and processes that needs to be in place.
The problem today is, most business owner think website is just a waste of money. Fortunately today, 94% of B2B business research online (source). These searches have to land somewhere if not your B2B website (and not your Facebook page). The question you should be asking, how far up are on you on Google Rank and are visitors engaged to your website?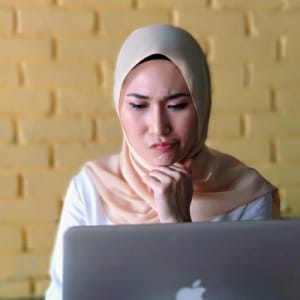 This is why most B2B websites are either boring or dull.
Because the owner (or person in charge) dictates the design process (it's not just about good looks.
Because they haven't got a clue what the market wants.
They had no clear purpose what the website is about.
Having to establish these facts, we arrived at this juncture. So, let's reevaluate the process of designing a website so you know what needs to be in place to dominate your industry.
Before you a start a website, you need a goal, a purpose. You need to understand who is this for. How can you be more engaging to your audience. What language are you going to use. What images to use to strengthen your propositions. It can summarized into the following points.
Goal of B2B Websites
B2B Target Market
Website Sitemap
B2B Content Copywriting
B2B Images
B2B Website Design Styles
Let's get to it.
1. The Goal of B2B Websites
The goal of any website is either the two. 1, a marketing tool. 2, a functioning tool.
1.1. B2B Website as Marketing Tool.

The website can be used to display your awesome portfolios, list of customers, your pitch, your products, your excellent service. Basically a place where you share your information about your B2B business. It's the single "source of truth". So your information has be up to date and comprehensive without giving too much away.
1.2. B2B Website as Functional Tool.
This is where a user actually uses your website to help solve their problem. For example, Gmail, Facebook, Google. It solves at least a problem, whether being connect to email, to people or perform searches. If you truly solve a customer's problem, then in their eyes, you are the saviour, a hero, words get around and you'll be remembered. But if the function is weak and there's no differentiator between you and your competitors, then you're just … you decide yourself.
2. The B2B Website Design Target Market
The second big item you have to look at for B2B website is your target market. If you are still saying that everyone is your target market, then the likelihood of you understanding your business is very thin.

Identifying your target helps you to use the right jargon for your copywriting. For example, if we were in a business providing HR consultancy, we'd probably be targeting HR and business owners. Use the term they are familiar with e.g. Aptitude Test, Health Screening, etc. So that you can build rapport easily by establishing that you have something in common with them.
If you haven't got any clue, then you can look at your previous customers. Create a list and identify them as an individual (not as a company). Things like age, education level, graduate in what field, where did you meet them and the list goes on. Here's an example of my target list.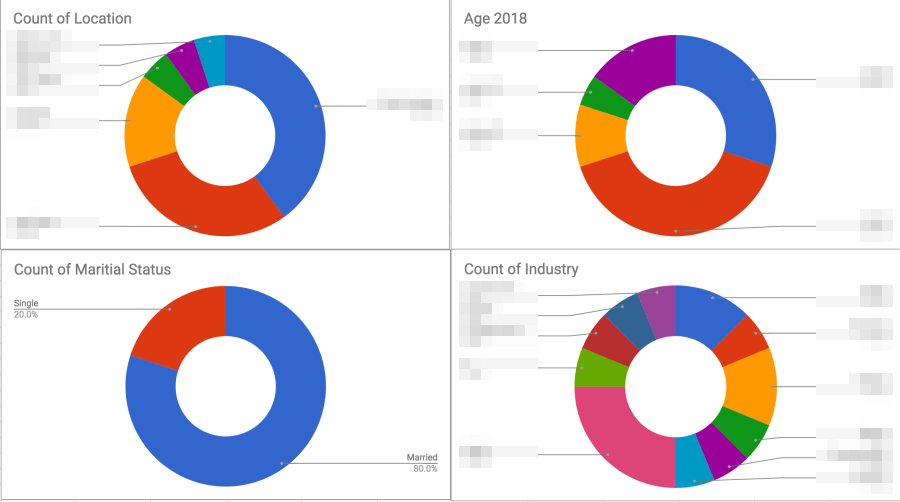 Unfortunately I have to blur out most info, but you get the idea. I made mine in donut chart, I'm a visual person. Visual really helps to explain the data in an instance. Whatever method you use, it's fine.
Now that we've established the Goal and Target Market, we need to start planning for the website. No matter what website you're building, (promotional or functional tool), the concept is the same. Here are the steps we use to start building a website.
1. Create a site map
2. Identify what kind of copywriting for the pages.
3. Identify what kind of images you want to use.
3. B2B Website Sitemap
In the past 20 years of my experience building websites, business owner always want to promote their chairman or top management in the main page. There's nothing wrong with this, except the approach can be better. Based on statistics that we've compiled, the lowest count of visits is the "management" and "about" page. In short, your potential customer want to know 2 things,
1. Can your product/ services help solve my problem and
2. What is the cost of the solution.
And they want it quick!
Only and only when you have provided enough information as above they would look at the about and/or management page. (Unless they are investors, they immidiately want to know who is leading the company.)
I would suggest you build rapport (by answering the two questions above, which makes you relevant) then build trust through "about page" etc.
A sitemap can be as simple as the following. Just as long as you and your team understand what the website is prioritizing.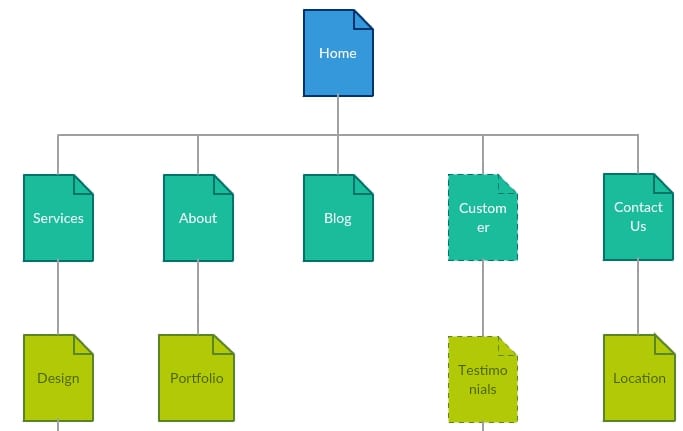 4. B2B Website Design Content Copywriting
Once you are done with your sitemap, the next item you want to create is content. You know your stuff, you can provide these content easily. However putting it in the perspective of your visitors requires a bit of mastery. This is where copywriting plays an important role to highlight your products & services.
4.1 FAB Theory
There are many theories for Copywriting, but the most basic on is FAB, short for Features, Advantage and Benefits.
Features – These are items they get when they purchase your product.
Advantage – How are you different then your competitors.
Benefits – The outcome of using your product.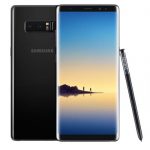 Let's put this in perspective of Samsung Galaxy Note 8.
Features: 14 Megapixel camera, 5.8 inch phone, Senheiser earphone. These are the items you get when you purchase the phone.
Advantage: Latest camera technology, scratch resistent screen, high quality earphone.
Benefits: Take better photos at night. Screen lasts long even without screen protector. Crispier sound for all day music.
FAB, BAF, BF, FB, whichever method you choose, it's ok. As long as you can distinguish the difference between these 3 (three) sentences. Just so you don't get confused, let's try a B2B perspective, in this example, we'll use RunCloud, a tool to better manage your servers.
Features: User login. Server Manager. SSL Encryption.
Advantage: 128 bit Encrypted and high secure login. Unlimited server management. Auto Renew SSL certificate.
Benefits: Impossible to hack login id. No additional cost as you grow your servers (and business). Hassle free renewal of SSL certificate.
In our experience, visitors prefer to read the "benefits" then go down to the "features". Having a good copywriting helps to keep your customer engaged, understand what exactly are you selling and how you can solve their problem.
Another aspect to consider the use of language. If you're in a specific field, you probably want to connect to visitors who are inclined to your business. You can also opt for broad use of language (meaning a kid can understand) but this can be seen as vague and you probably lose interest of your target market. Example of broad use of language is as below.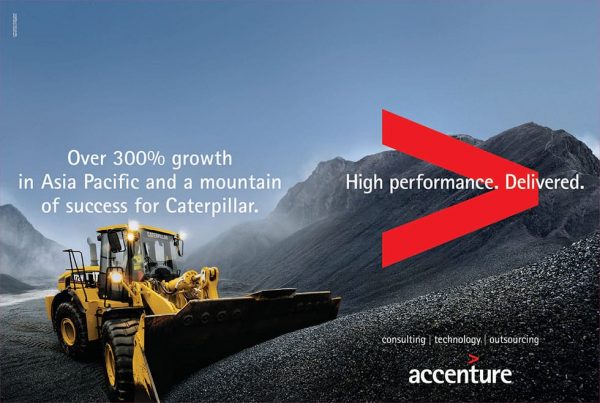 Anyone can understand what it means, but who was it intended for? Can anyone use Accenture? Nope. They are the best at what they do and they charge a premium for that. But since they have deep marketing budget (they even sponsored Tiger Woods), they want to let as many people know that they solve big business problems.
5. B2B Images/ Graphics
Once you have your copywriting, you can enhance your writing 60,000 times! And this is where most B2B website design fails to be anything but boring.
Fact, human brain processes an image 60,000 times quicker than text.
Do you agree to this fact? If don't then you're probably the rare 1%. Majority of human processes images better than text. This is known fact. So when using an image for your product or services, it better reflects the benefit of using your products. Let's look at the example below by Spotify.
In the example above, the man is happy because he no longer see ads. The emotion is the outcome, which is the benefit. Let's look at a few other examples.
This one of the poor example which doesn't explain anything but cool graphics design. There's a clear mismatch between servers and crane which I failed to relate to another. How is a crane reliable?
What about this one? What does the cricket team has anything to do with a mobile wifi?
This is a good example of using the right image. The man is withstanding dust (or particles) with a shield, clearly demonstrating the benefits of using their product.
Another great example is this glove. Demonstrating the outcome of using the product.
In my years of experience building and ogling over great B2B websites design, I concluded the 3 key to better images on website are the following:
How the product is being used or
The emotion (outcome of using the product) or
The end product (in case it's a service) like buildings for architect & contractors, websites for web designers, server farm for IT companies etc.
Hint: Using outcome images with emotion helps you to sell your products & services.
6. B2B Website Design Style
Lastly is the style of your website. Once you have your goal, target market, copywriting, images in place, it's time to figure out the styles of your website.
Styles plays a major role in stiching your website together. Your website design style is meant to convey your message clearly. The analogy for this is to imagine a sports car with a mismatched exterior and interior design, space age exterior but classic wooden trim interior. In website design case, the interior is your content and exterior is your website design style.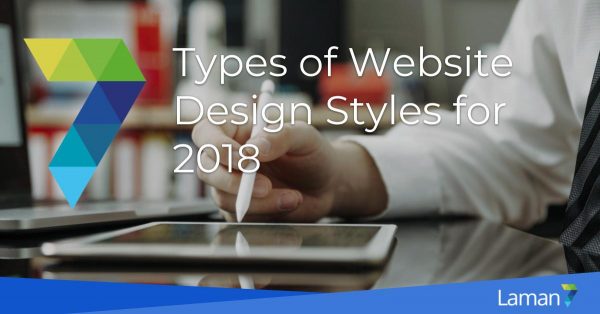 I've wrote a lengthy explanation of website design style for 2018, so you can just read it here.
Which ever way you go, always remember, DO NOT CHOOSE MORE THAN 2 WEBSITE DESIGN STYLES. If you do, then you will lose your audience focus and the website is going to be really messy.
B2B Website Design Key Takeaway.
The Goal – Know the purpose of your website.
The Target Market – Know who are your target audience.
The Sitemap – Simplify and prioritize your content by products, then why you.
The Copywriting – Features, Advantage, Benefits. Know the difference
The Images – Show the outcome of your products.
The Design Style – Do not combine more that 2 design styles.
I think that's about it. Just remember, B2B website design doesn't have to be boring. It should be engaging professionally and help your business grow.
When you plan on redesigning your website, our team is more than ready to help you with your needs. We are not in business for 10 years because we are good, like you, we are in business because we are continuously learning.
If you have any questions, feel free to drop a question or two in the comment section below or drop us an email via the contact form.
p/s: Next post would be how to make more sales on B2C Websites.
Get More LEADS Today!Your website can help reach your target audience while you are asleep. Start sleeping today and leave the boring bits to us​BUILD WEBSITE WITH LAMAN7