Visitors have questions website must answer. This is the key to providing a good user experience and converting visitors into customers.
Asking questions is our innate reaction. We've been doing it since three years old. Read more about why we ask questions from a psychological standpoint.
Naturally, website visitors come from Google. They ask questions (or type in keywords) in the search field to seek answers. Your website pops up, they clicked.
They scanned your website with ready questions that need to be answered.
Of course, this is assuming that you've done SEO really well. If you haven't done any SEO, try our SEO Malaysia service.
In this Insight, you're going to read the 7 most asked questions a website must answer in order to make full use of your website. I will also be sharing how to best answer them.
1. What are you selling?
Before you answer your product name. Nope. That's not the answer.
It's not a product, service, tools, brand name etc.
Visitors want the outcome, performance and transformation they get from using your product.
Selling Property – Perfect livable area
Shampoo – Smooth silky hair
Running – Personal best timing
Use this answer on the very first part and the first page of your website. This is your headline. No one should miss it. When you can, use Unique Value Proposition.
They don't have to be blown away by the theatrical and mystical performances. Something believable, never over-promise the performance because people can smell scams.
Then only showcase your products and services.
2. Why should I care?
Think about the problem you can solve with your product. What problem are the visitors facing that leads them here?
What happens if they don't get/use your product. Will it make them more unhappy? Lose sleep? Hair lost? Get poorer? Bad investment?
Don't harp on this for too long. People hate being reminded of their shortcomings.
3. Who is this for?
Mention the target market, the personified (when you can).
Sometimes it can be implied. Like Laman7, we use million-dollar companies logos because those are the target market that we want to attract.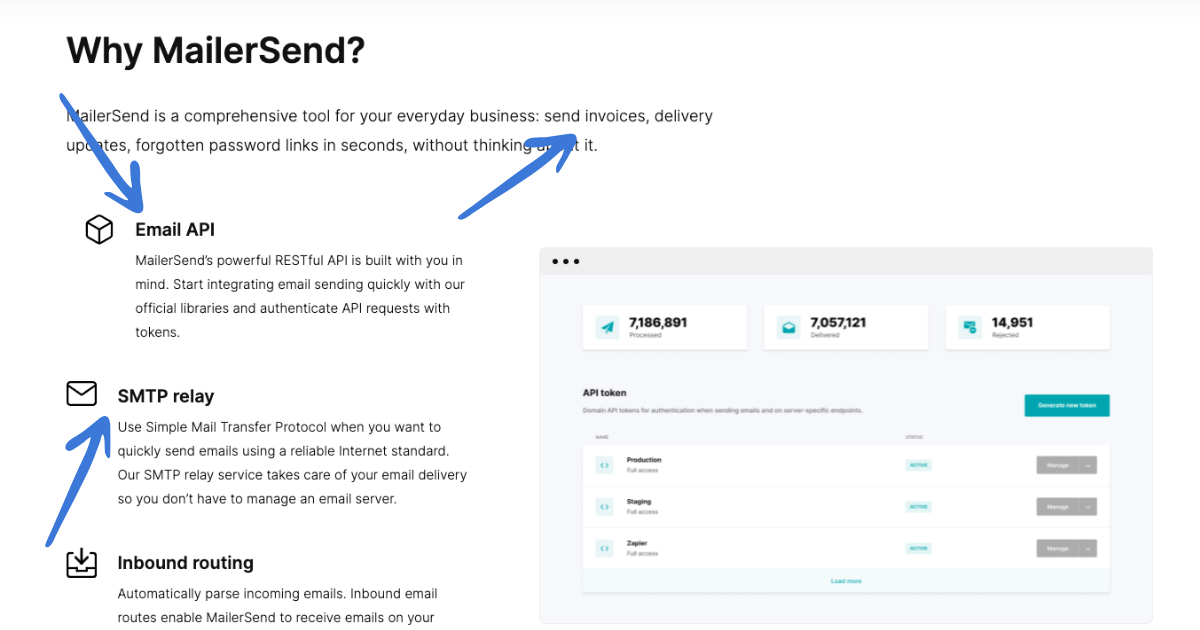 Though Mailersend does not specifically mention who is this for, it is implied by using specific terms that Web Developer and CTO understands.
Address the audience pain point or dream.
For Accountant – Okay
For Frustrated Accountant – Better
4. What is the Cost?
We need to know the range of the price unless we're desperate, like fixing my back pain. I'd pay anything to relieve the pain.
If you can't because it's circumstantial and depends on the environment, give them a range.
With the price range, we know what to expect from the product/ services.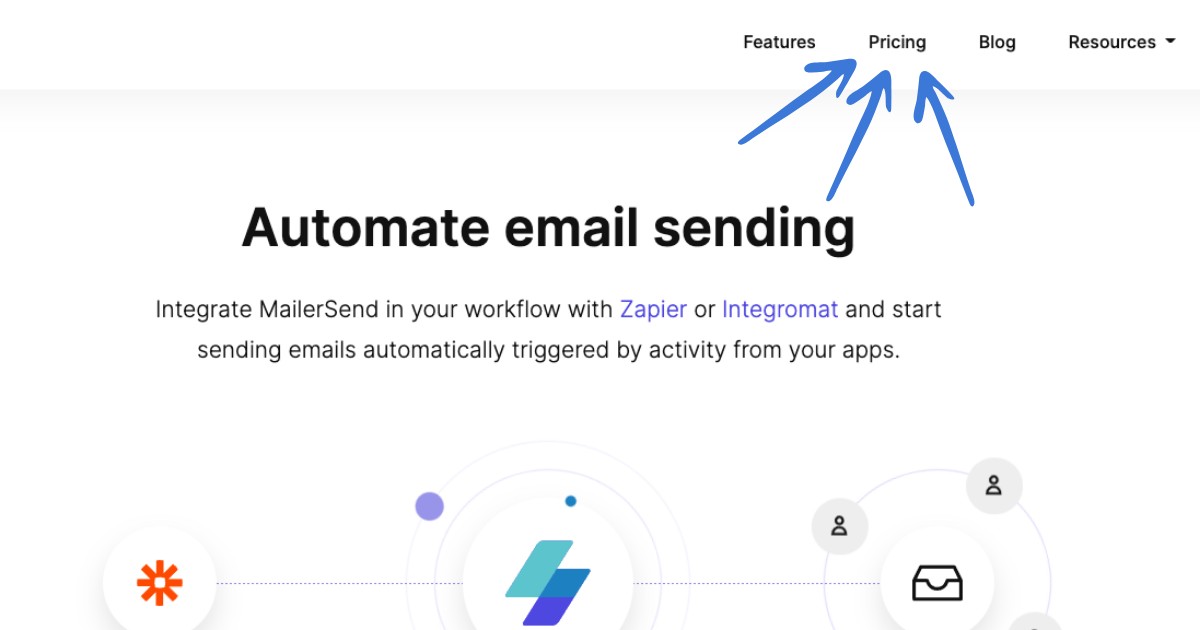 You can also push the cost to a specific page to explain it in greater detail.
5. Why buy from you?
Think about differentiation.
Almost all products/ services can be differentiated.
For example, when you hire Laman7, you don't have to do copywriting for the website. Simply submit whatever materials you have. We'll come up with both copywriting and design.
Unlike other professional web designers, they rely on you to write the content, something you are not thrilled about.
You also need to answer, 'can I trust you'. Trust is huge and hard to earn.
You can earn instant small trusts by
Including physical address
Your phone number
Company registration
Link to website policy
Guarantees
Customer support number
Provide valuable content for free.
Statistics
Portfolio, past project and so forth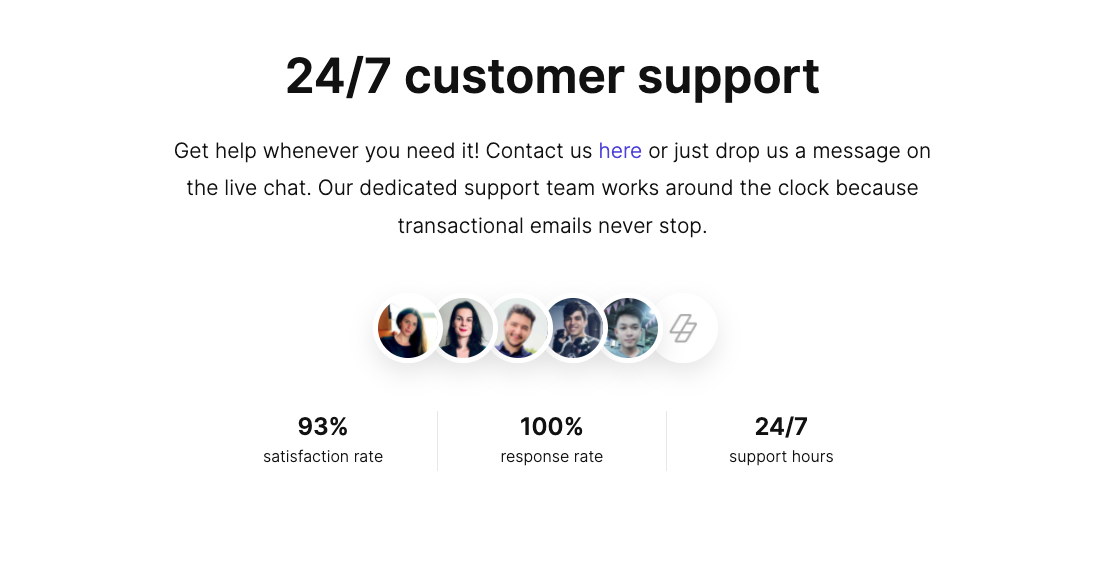 Mailersend provides 24/7 support in case you need them.
6. Who else is using it?
This is the social proof section. You can use testimonials in video format, text or image. Make it believable. Consumers want validation and not be the first to try this product.
7. What's the next step?
The next step (though very obvious) is to take this out of the website. Through Calls, Contact or Email.
Oftentimes visitors require incentives to get them to take action. Entice them with free consultation, quote, discussion, never just 'Contact Us' because that's what everyone else would do.
You may need to employ some persuasive tactics here.
If you're selling a Web app, then you may want visitors to create an account.

The key here is to make it frictionless.
What Happens if the Questions Aren't Answered?
If any of these questions aren't answered on the website or are unsatisfactory, the visitor may be left with a feeling of frustration or confusion.
This can have a negative impact on the visitor's experience and may lead them to abandon the website altogether. Find competitors and work with others. Google will consider this type of website irrelevant, then rank them lower.
Answering these questions are on the first try is easy. However considering there are more than 200 million active websites out there and your competitors, you may need to hire professionals to do it for you.
Conclusion
Want better results from your Website? Answer visitors' questions. The more 'ticks' you get, the closer visitor feels to you. Remember this,
Conversation creates conversion.

-Allan Dib
Consider website revamp? Read this Ultimate Guide to Website Revamp.
Looking for web designers in Malaysia that build persuasive website? Look no further.