There are many web design companies in Malaysia, and the prices they offer vary greatly. Web Design Price in Malaysia starts from RM 500 to RM 250,000.
It is important to find a web design company that offers good value for your money. In this article, we will discuss the different types of web design packages available and how to get the most for your money from your website design investment.
1. Types of Web Design Packages
There are many types of web design packages that you can choose from depending on your needs and budget.
The fundamental of a website is you must have domain and hosting. The price varies based on domain cost and hosting costs. Choose the one that is suitable for your business.
Here are some of the most common types of packages:
a. Basic Package or DIY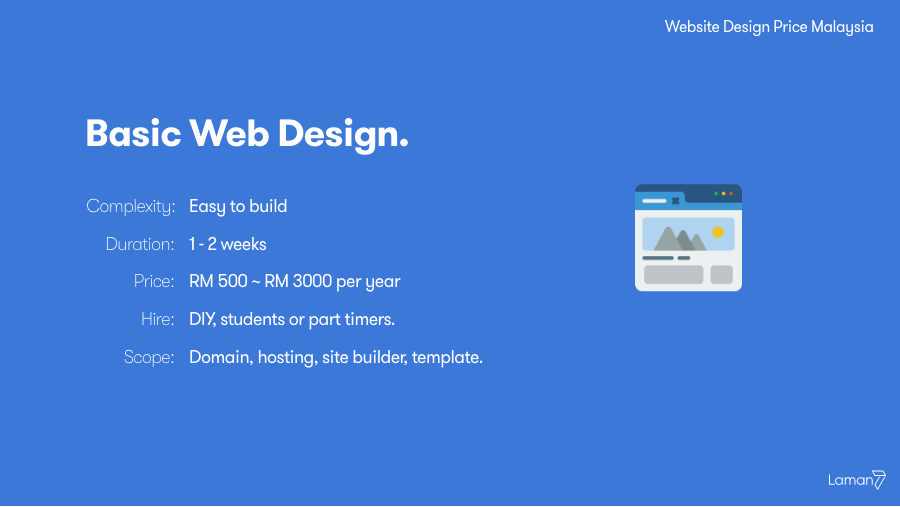 This is the most basic type of web design package and includes only the design and hosting of your website.
Option 1. You can buy a domain, hosting then use Elementor on top of WordPress (almost free)
Option 2. Go with website builders such as Webflow, Google Site and Wix.
This is the best option if you're starting out a business. You don't need much content to start. It takes about 1-2 weeks to complete.
The price is RM 500 – 3000 per year.
b. Semi-Pro Package or Do for Me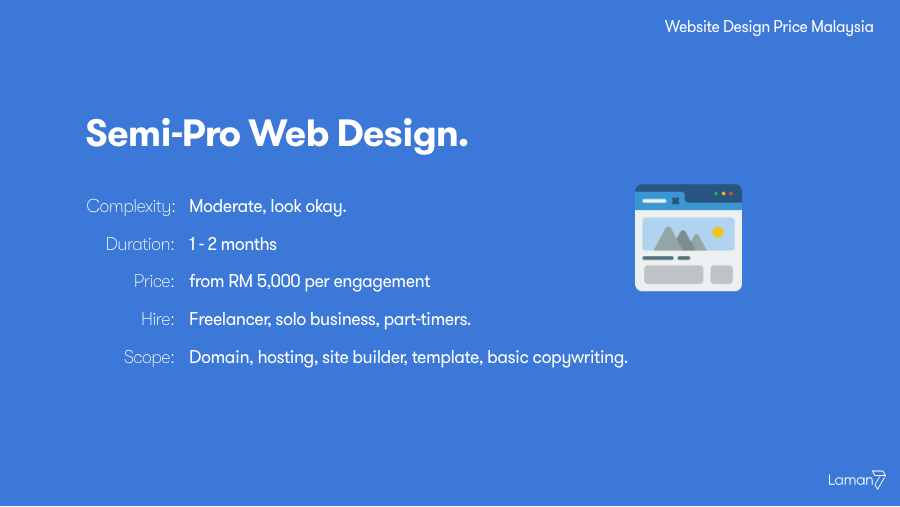 This type of package includes basic design and hosting, but also includes some additional features such as a custom domain name and a professional logo.
You'll work with freelancers who can code and design your website. They'll handle everything from domain, server and email.
Perfect for those who don't want to deal with technical and business have started turning profit. It takes about 1 month to complete.
The price is up to RM 5,000 per engagement and RM 1,000 to 3,000 per year for maintenance.
c. Professional Web Design Packages – Work with Agency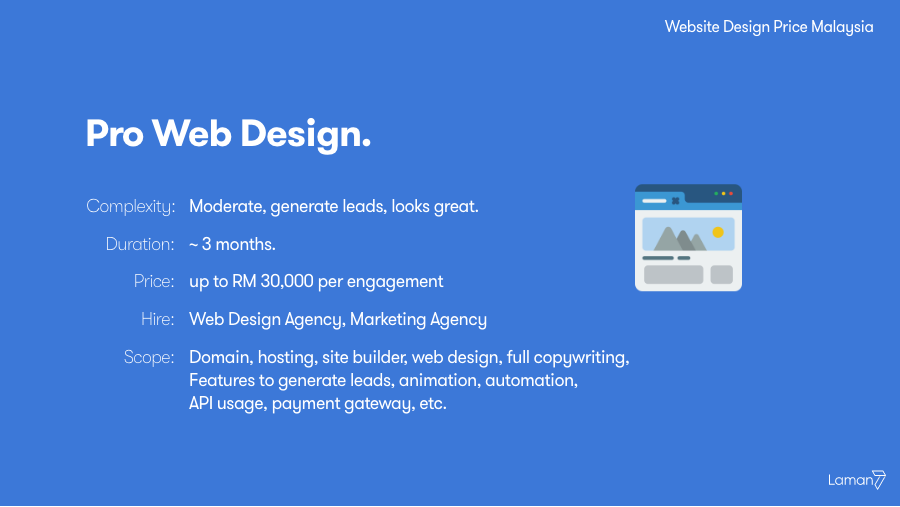 This is the most expensive type of web design package but includes more features and customization than the semi-pro package.
You have specific features you want to have on your website. e.g. Appointment, basic CRM, Email Newsletter and more.
This package is normally offered by a team or agency. Which gives you all-rounder expertise from web designers, web developers and marketers.
You can expect the team to build a persuasive website that turns strangers to visitors at scale. You may also want to drive more traffic to your website using paid ads and search engine optimisation.
Perfect for companies who are scaling their business.
The price is up to RM 30,000 per engagement and RM 2,000 to 5,000 per year for maintenance. It takes about 3 months to complete.
Want to improve your website and get more leads? Hire us, web designers in Malaysia.
d. Custom Web Design Packages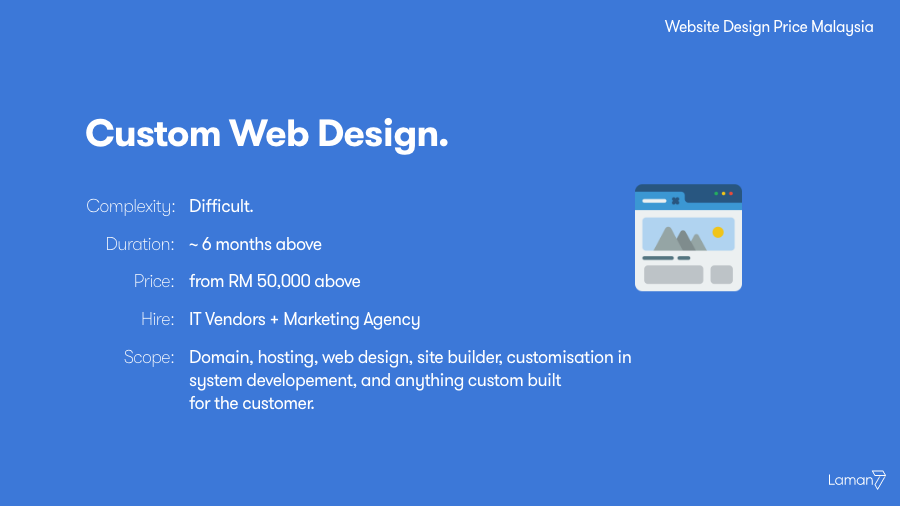 This is the most custom type of web design package and allows you to completely customize the entire website.
This is a huge project involving systems and designs. It's suitable for government, web app companies, and large corporations.
The software used for these types of websites is Sharepoint, SitePoint, adobe experience. Typically takes about 6-12 months to complete.
The price is from RM 50,000 per engagement and from RM 10,000 per year for maintenance.
2. How to Get the Most for Your Money from Web Design
Before deciding to invest in a website you must know your business numbers.
Average Order Value
Customer Acqusition Cost
Number of New customers per month
Lifetime Value of Customer.
These numbers will help you to decide the budget for your website.
4 years ago we built a website that costs RM 25,000 (which was expensive), and it had generated over RM 35 million new revenue. That's 1400% ROI.
Knowing your numbers will definitely help to choose the best web design package.
You may be tempted to compare spec-to-spec against other web designers, however, specs promise incremental improvements, not gargantuan benefits.
Look for something different.
Start your website with the right message to your target market, that's where you'll make the most money from your website investment. Learn more about Laman7 web design package.
Secondly, manage your expectations. You get what you pay for.
3. Why Are Website Expensive to Build?
There are many reasons why a website is costly to build.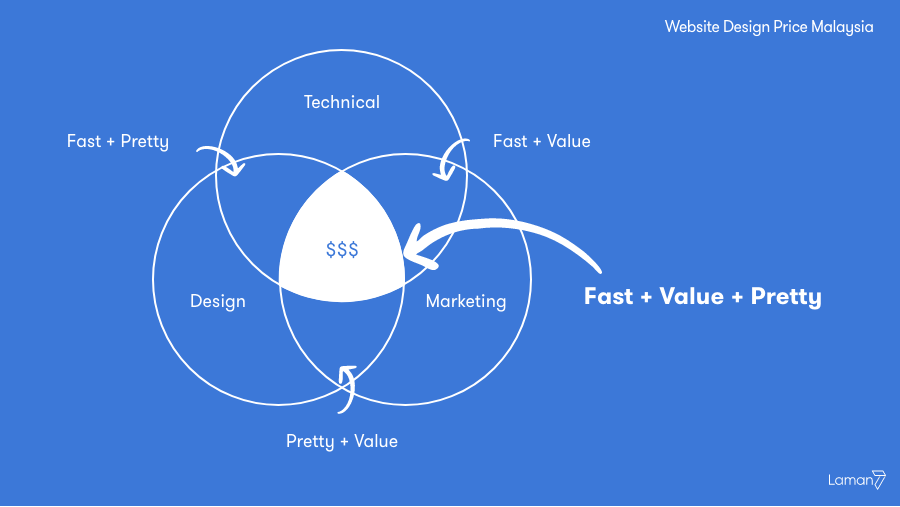 The first reason, it's combined expertise between technical, design and marketing. The level of expertise in each domain will determine the price of the website.
The second reason is the duration to build the website. Large projects for large corporation usually takes up to 6 months to complete. This is usually driven by a committee which adds further complexity.
More detailed explanation why websites are expensive.
Conclusion Web Design Price in Malaysia
In conclusion, it is important to do your research before choosing a web design company. Any web designer can build anything for your business. The biggest question remains, do you just want a website or do you want a marketing asset that makes money?
We can't help you with the first part, but if you want a website that converts strangers to customers, look no further, contact web designer in Malaysia.