A website without any objectives is like letting kids take the steering wheel. Either it won't start or crash.
In order to thrive, your website objectives must be aligned to your business so that you can measure the results and improve your website and business. 
Are you planning to revamp your website?
Let's get back to the basics, what's the true purpose of a website?
The purpose of a website is to convey meaningful information to the visitor so they can take the next action.
It should be easy for visitors to find what they're are looking for on the website. It should be interactive and provide useful content. Visually appealing, easy to use and clear direction what's next.
Some objectives you might want to consider when choosing website objectives are the following:
To generate leads for the business
To increase traffic to the website
To market the business
To increase brand awareness
To reduce call center workload
To attract talented worker
To attract investors
To generate sales
The only way I see a website is to generate leads and sales, which is aligned to every business.
To replace salespeople from spending too much time explaining again about the same topic which can be addressed using a website. The rest of the objectives are fluffs (unless you are a billion-dollar company or government agency).
1. What Are Website Objectives?
Website objectives can be broken down into a few different categories: lead generation, traffic generation, market exposure, and sales. Each of these categories has its own set of goals that should be considered when setting objectives for a website.
Lead Generation
One of the most important objectives for any website is to generate leads. A lead is someone who is interested in learning more about your product or service. Lead generation can be accomplished through a variety of methods, including email marketing, online ads, and content marketing.
Example: Get 10 leads per month from the website.
Traffic Generation
Another important goal for a website is to generate traffic. Traffic is the number of people who visit the website each month. Traffic can be generated through a variety of methods, including SEO (search engine optimization), pay-per-click advertising, and content marketing. Market Exposure Another objective for a website is to increase market exposure.
Example: Get 1,000 visits from Social Media
Market Exposure
Market exposure means getting the website in front of as many people as possible. Market exposure can be accomplished through a variety of methods, including SEO (search engine optimization), paid advertising, and social media marketing.
These usually happen outside of the website.
Example: Rank top 10 for Keyword "Web Design Malaysia"
Sales Target
Another important goal for a website is to generate sales. Sales mean bringing in revenue from the sale of products or services. Sales can be accomplished through high-quality products and a strong sales team.
Example: Generate RM 500k per year from the website.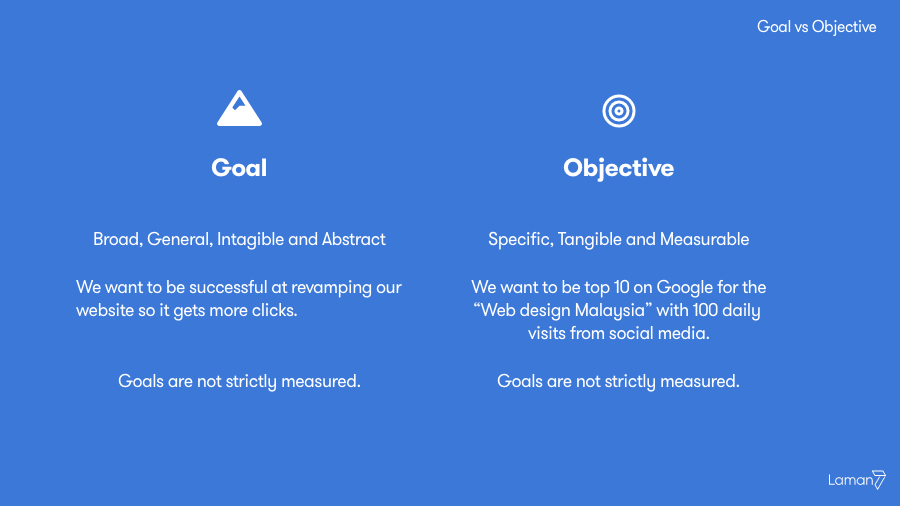 2. Why Are They Important?
Objectives are important because they help us achieve our goals. They are the things we want to accomplish, and they are the things we want to be remembered for. Objectives can be personal or organizational, but they all have one thing in common: they are specific and measurable.
When we have objectives, we can focus our efforts and stay on track. We can also measure our progress and make adjustments as needed. Objectives can help us achieve our dreams, goals, and objectives.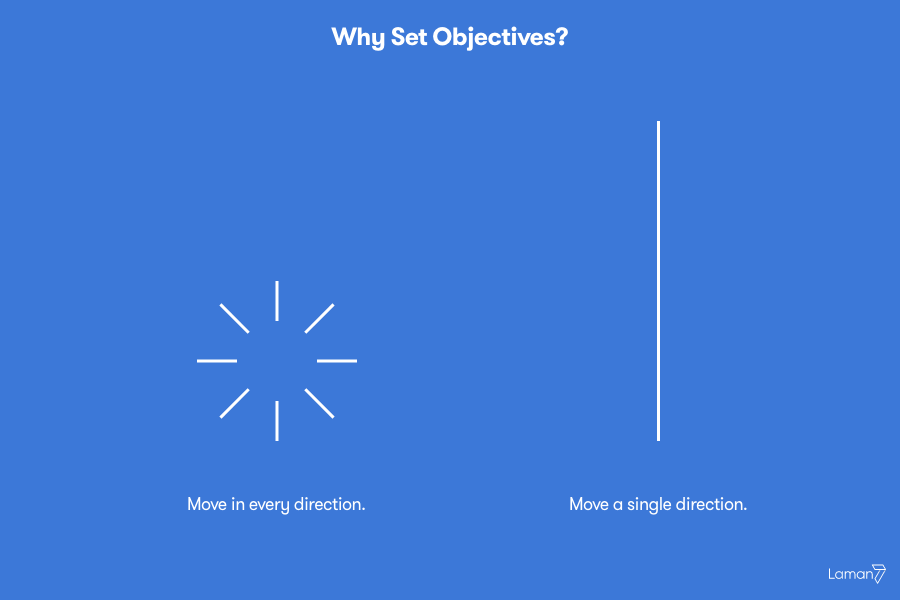 3. How To Choose The Right Ones?
There is no one right way to choose objectives for a website. Each organization and each individual will have different goals and objectives, so it is important to find ones that are specific to your organization and your needs. There are a variety of methods you can use to select objectives, including SEO (search engine optimization), paid advertising, and content marketing.
Consider these questions when deciding a website objective.
What stage is your business in? Startup, Growth, Scale?
How do you currently get sales? Offline, Online or Mix?
How does the website fit into your marketing plan?
4. What Are The Best Website Objectives?
Below are a few examples of website objectives that could be used by businesses of different stages:
Grow traffic and convert more leads into customers e.g. get 10 leads/ month.
Increase brand awareness e.g. 1,000 website visits.
Increase website traffic from specific countries or regions e.g. 500 from Malaysia
Increase website conversions by 10% e.g. 5 in 50 bought product.
5. How To Achieve Website Objectives?
There are various strategies you can implement to help you achieve the website objectives.
Set an achievable target.
Grow traffic using SEO, getting links from authority websites and influencers.
Create gated content, ask for their email before giving pdf or case studies.
Craft meaningful messages so visitors get you the first time they land on your website.
Design with fewer distractions and clarity
There's a lot of work that needs to go to the website before you can call it a day.
Other business goals for your consideration.
How about we do it for you?
We build persuasive website that gets you leads. We will take away all the painful writing needed, use a minimalistic design approach and move visitors using psychology.
Give us some context on the website, and we'll do the rest.
You focus on your business, leave the website to the expert.
Conclusion
Setting website objectives is very important for your website. You need to set some measurable goals so that you can track the progress and improve your website.
Planning to revamp your website? Read the Ultimate Guide to Revamp Website.