There are many different ways to measure the success of your SEO efforts. In this article, we will explore some of the most important SEO KPIs (key performance indicators) and how to track these SEO metrics.
These metrics will help you justify the SEO spending for Corporate SEO.
All SEO performances are related to one another, which eventually leads to revenue.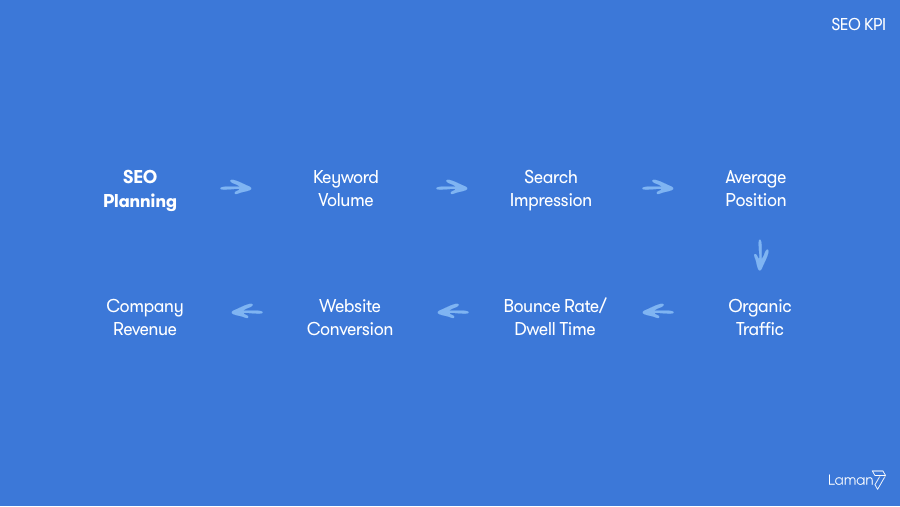 A simple flow would be, Keyword Volume to Search Impression to Average Position to Organic Traffic to Bounce Rate/ Dwell Time to Conversion. Plan your SEO right to get the best result.
Interested in SEO service in Malaysia?
1. Organic Traffic from Google/ Total Clicks
Organic traffic from Google is an important metric to track because it indicates that your website is being found by people who are searching for information that is relevant to your business.
The higher the number of organic referrals, the more likely it is that your website is providing valuable content that people want to find.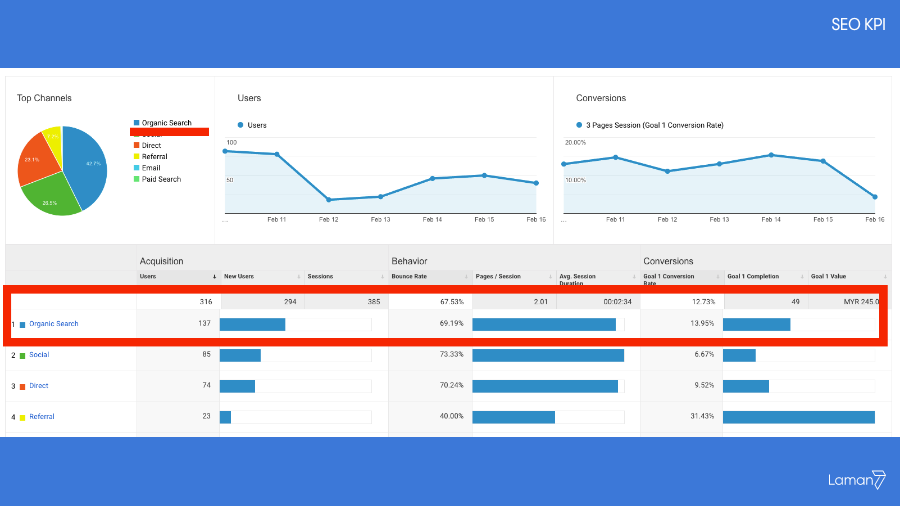 Check from Google Analytics, Acquisition > Overview.
2. Search Engine Impression
Total impressions are how many times a user saw a link to your site in search results. This is calculated differently for images and other search result types, depending on whether or not the result was scrolled into view.
Search engine impression (SEO) is a measure of how well a website is performing in the search engine results pages (SERPs). The higher the score, the better.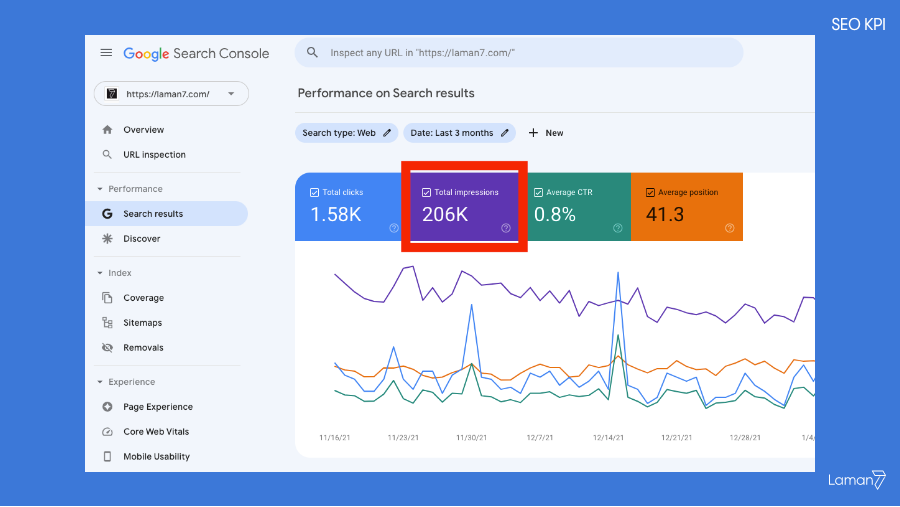 Check from Google Search Console. 
3.  Average Position and CTR
Average position is a common metric used to measure a website's search engine optimization (SEO).
It is calculated by dividing the website's total number of global pageviews by the number of times the website was searched.
CTR is short for Click Through Rate, how many clicks do you get per impression. The higher the number, the better.
To improve CTR, change to persuasive Title which makes them want to click.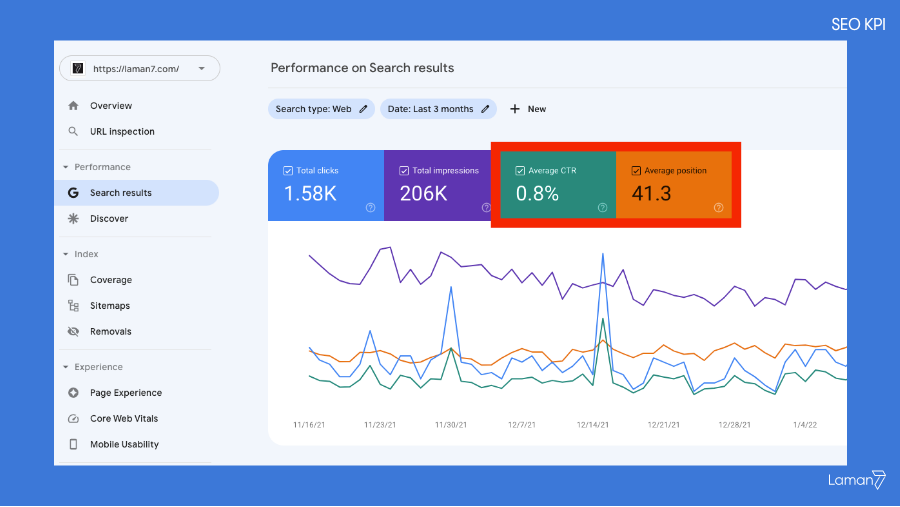 You can measure using Google Search Console, Search Result.
4. Number of Backlinks
Backlinks are links from websites that are relevant to your content. The more backlinks you have, the more likely people are to find and visit your website.
The best way to track is using the Ahref tool.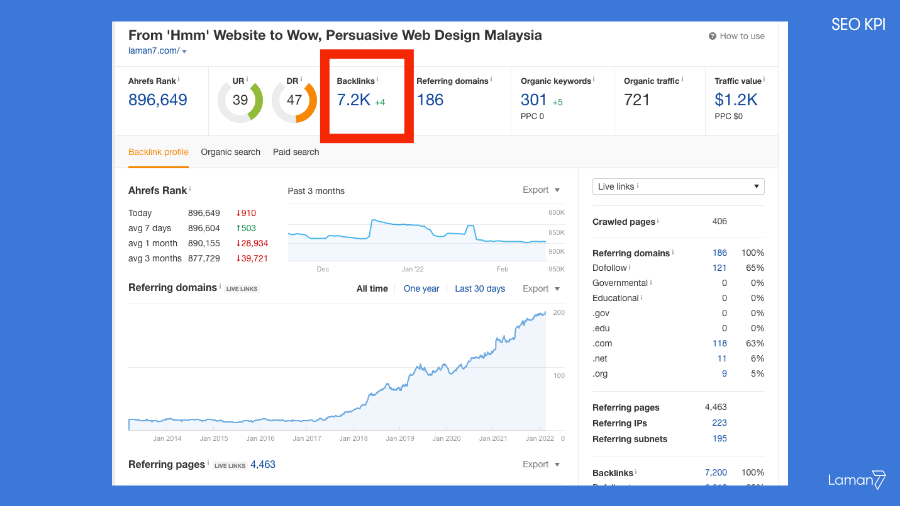 To capture more backlinks, you can do the following:
Create quality content – infographic, videos
Use a quality backlink building tool
Participate in relevant online communities
Launch PR Campaign
Create affiliates
Blog outreach.
5. Bounce Rate and Dwell time
Bounce rate is the percentage of visits that are bounced from your site. The lower the better.
Dwell time is the amount of time that a visitor spends on your site. The longer the better.
For both, design better UX and create quality content. Ensure the content is legible (easy to read) and use relevant graphics.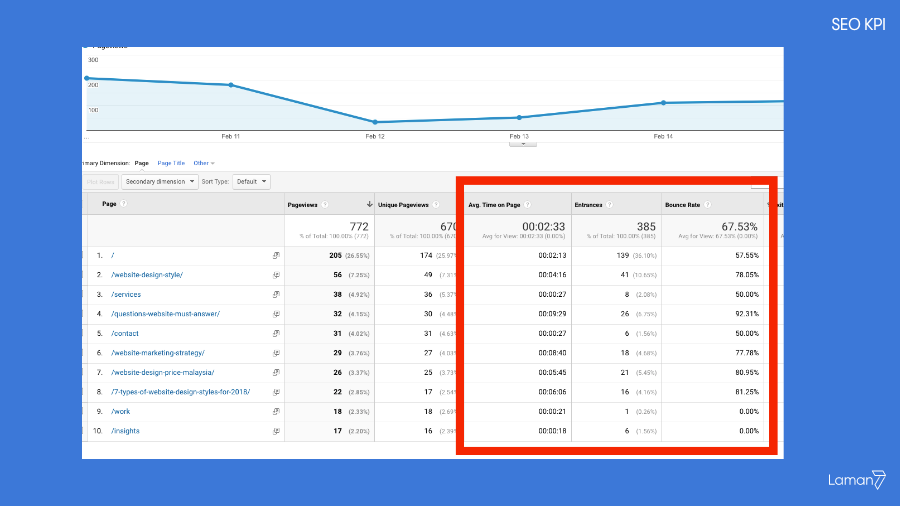 You can measure both from Google Analytics, Behavior > Overview.
6. Top Keywords Position
Select critical keywords you want to be ranked for, then measure monthly or weekly basis. The lower the number the better.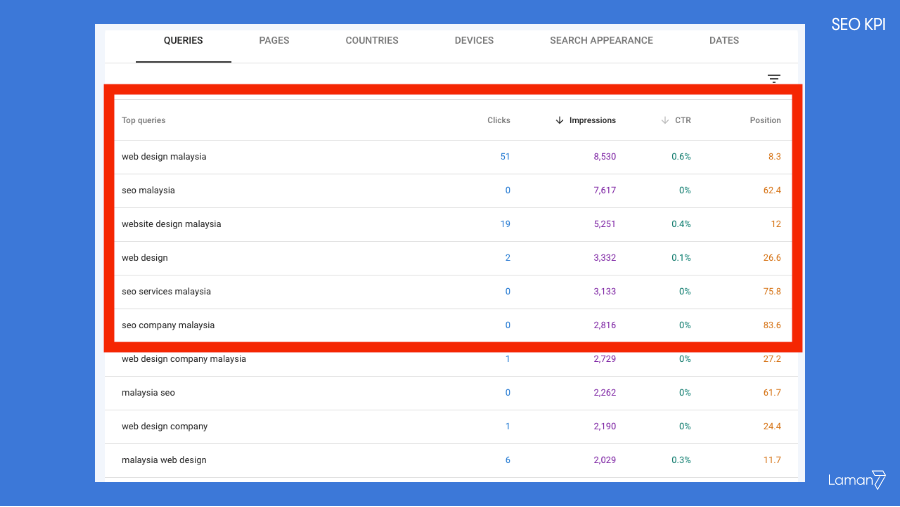 You can measure using Google Search Console, Search Result.
7. Conversion (Sales or Leads)
Finally to measure the overall effectiveness of SEO strategy is to measure the conversion rate.
Normally this is done when a visitor visits a 'Contact Us' page and gets redirected to a 'Thank You' Page.
Or if you're using an e-commerce platform, you can track the sales generated.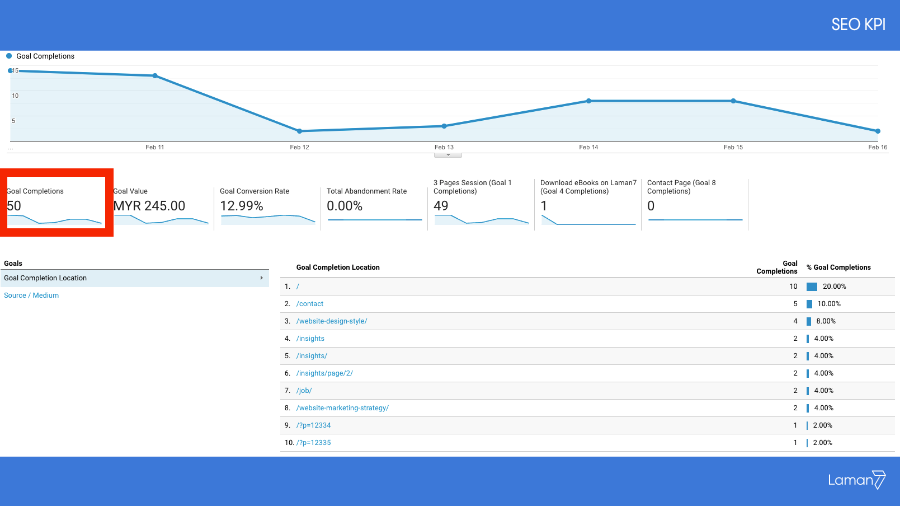 This can be done using Goals in Google Analytics > Conversions > Goal.
SEO Dashboard and Improvement.
Now that we've got all your SEO performance in place, it can be daunting to log in to different accounts to see the SEO performance.
Instead, try using a dashboard. And it should read something like this.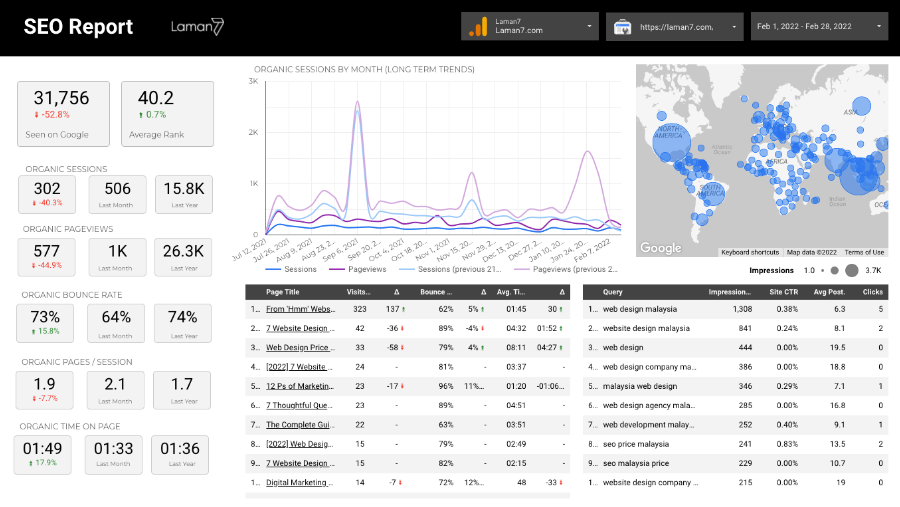 To improve all in one go is very difficult. Instead, choose one metric to improve. The best one would be to improve the User Experience of the page. Consider revamping the website.
Web design goes hand in hand with SEO.
When people can't read or scan (or find nothing relevant to them), people exit which causes a higher bounce rate. In turn, Google will start to reduce the ranking of your website because it thinks you are not relevant.
Get a second opinion on your SEO Malaysia. We'll take a look at what needs fixing and suggest improvements for your website. Check out SEO Price in Malaysia (guide) so you don't get scammed.
Conclusion:
SEO is a long-term process. You need to set goals and measure your SEO KPIs performance regularly.
The ultimate SEO metric is revenue.
Any SEO or marketing activity is considered useless if it does not contribute to the growth of the company. Since 90% of people use Google, SEO should be one of your top priorities.