Shopping for SEO Price Malaysia? In this article, we'll look at some of the most important aspects of SEO scope, pricing and what to expect from SEO activities in Malaysia.
There are many factors such as the scope of the project, the number of hours required, and the frequency of reports and communication all need to be taken into account.
Why Companies Should Invest in SEO?
One of the biggest benefits is that it can help your website rank higher in search engine results pages (SERPs). This can lead to more website visitors and potential customers.
Additionally, it can help you improve your website's visibility and ranking in specific search engines, which can lead to more website traffic.
More traffic means more revenue for your business.
On the other hand, if you don't do any SEO, your competitors will start eating the market share. And no business want's to do that.
Related: Corporate SEO, Best Practise for Large Companies with Large website.
1. What is the Scope of SEO?
There 4 main scopes of SEO that can't be ignored.
Research and Consultation: Understanding your industry and website
Creating and Optimising Content: Technical bits of SEO.
Backlink: Getting traffic from other parts of the web.
Reporting: Weekly or monthly reporting on the activities.
If your SEO vendor failed to do any of these, then it's most likely you've been cheated.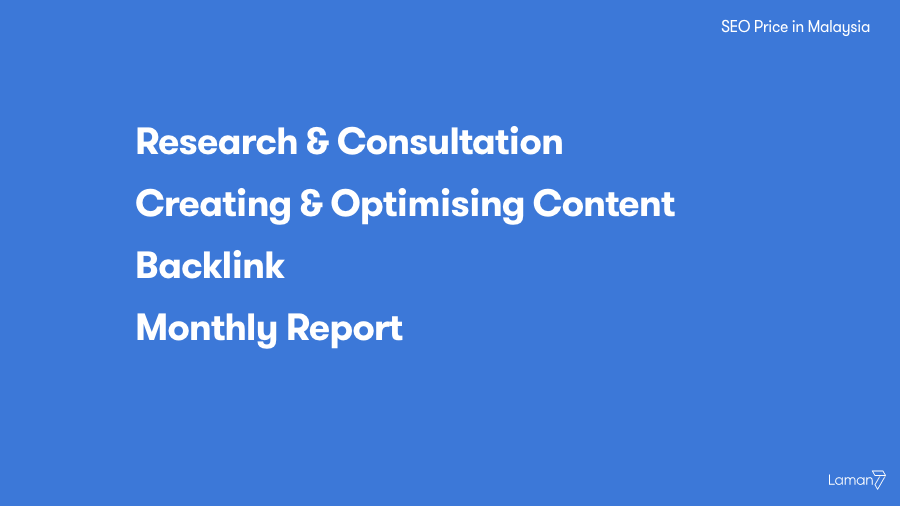 Related Insights: SEO KPIs, what to measure in SEO?
2. SEO Price Malaysia – Structure
There are many ways to pay for SEO service, it depends on whichever model is suitable for your organisation.
1. Hourly Rate
When pricing SEO services, many people start with an hourly rate. This is a good way to ensure that you are getting paid for the time you spend on the project. It also allows you to budget for the project.
The SEO services Malaysia hourly rate is around RM 200 ~ 500 depending on expertise.
I would steer away from this engagement because SEO is a long term strategy, you wouldn't want to tarnish your reputation.
2. Monthly Rate
Another option is to price SEO services on a monthly basis. This can be a good option for those who want to budget for the project over a longer period of time. It can also be helpful if you are working on a long-term SEO strategy.
The typical pricing is around RM 2,500 to 15,000 depending on how big your website is.
This would be the recommended option for SEO pricing in Malaysia because it provides both accountability and the long-term effectiveness of SEO strategy.
3. One Time Charge
One time charge would be like additional help for your SEO project. Something like
Make the website quicker
Structure the Sitemap
Fixing codes
Writing articles
SEO Content Planning
The SEO price in Malaysia varies based on the scope from RM 500 to RM 15,000.
3. DIY SEO to Save Money
There are so many ways to do your own SEO and save money on your online marketing campaigns.
You can use free tools, such as Google Analytics and Google Search Console. You may also need to get a paid tool like Keyword Finder for research and AI Writer to help you write articles.
Whichever route you choose, be sure to research the options and make a cost-effective plan before starting your campaign.
There is a big difference between SEO Experts and DIY-ers.
Technical know-how – You will need to learn yourself.
The rising cost in the Keyword research tools (RM 500++ per month).
Wasted time – 6 months, and you still get nowhere.
Even if you're starting out, use Paid Marketing to get traffic to your website.
4. Budgeting for SEO Activities.
Allocate some budget for SEO after you have exhausted Paid Marketing using Facebook ads and Google ads. SEO shouldn't be the only marketing weapon in your arsenal. Because SEO takes time and patience.
Sometimes it works, sometimes it doesn't. You need a steady stream of traffic and leads.
General tips on how to budget for SEO activities is to set realistic goals and expectations, focus on long-term results, and keep a close eye on costs.
Don't be afraid to terminate when your SEO vendor failed to deliver the desired result.
You can always hire new ones.
5. Outlook for SEO in Malaysia
SEO in Malaysia is relatively easy to rank compared to other developed nations. The market is expected to grow to nearly 20%.
There is plenty of room to grow and rank high on Google. As the saying …
If you are not ranked on Google, your competitor is.
Get free SEO Audit now for your SEO in Malaysia.
Conclusion (SEO Price Malaysia)
When it comes to SEO, you get what you pay for. Make sure you understand the scope of the work before you sign up for an SEO package.
Remember, the best way to get the most out of your money is to find an SEO company that you can trust and work with them closely.
View SEO package Malaysia.