In this blog post, we will sharing comprehensive write up on web design for Lawyer. The goal of the post is to help Law firms to form opinions on why do they need a website, how the website should look like, what should go in the website and how to strategist website for digital marketing.
You can skip the topic as follows:
1. why Lawyers need website?
As a legal marketer, are you struggling to get new clients and files? And moving from traditional marketing method to digital marketing (Marketing 4.0), but how is this going to impact your marketing plan?
We noticed, through digital marketing you can reach your potential clients much broader. Thus, you need to specifically attract the right audience. In legal industry, there are clients who seek corporate law, criminal defense, family law, legislative and governmental affairs, etc. They want a lawyer with high-intelligence, strong analytical, good communication skills and advocacy skills before decided to invest in your firm to handle the case. Yes, these skills are essential for a qualified lawyer.
However, running a firm requires you to sell services and attracts clients as well in order to sustain your legal firm. You need to build relationship, trust and influence your audience to hire you.
So, have you decided which digital platform should you focus on to build the bridge to your potential clients?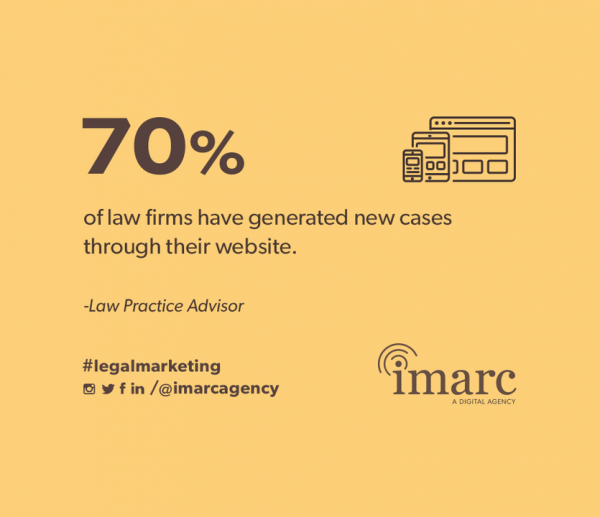 Source: imarc
As shown above, 70% of law firms have generated new cases through their websites. This shows that majority of your potential clients are turning to the web to seek for legal help making your legal firm's website the most important asset. This is an opportunity for you to get over your competitors while spreading brand awareness through Facebook ads, Google ads and Video ads which then drives to your website.
In preparing this, not only that you need to make it mobile-friendly but also to provide them with modern and fresh look web design that conveys your firm's expertise and personality.
So, here are 3 main reasons why your Law Firm need an excellent website.
Top 3 reasons why lawyer Firms needs Excellent website
Reason 1. To increase credibility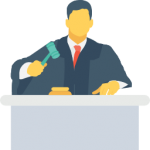 In a Verisign study, 84% of consumers believes business with a website is more credible (source: blog.verisign.com ). This shows that they will take your business more seriously if you have a website. As a lawyer, you would want to be seen as trusted and loyal.
This is followed by your email address. You can use your website to create a custom email address such as [email protected] instead of using [email protected]. It will also give your law firm a professional image as much as the larger firms.
Reason 2. To reach targeted clients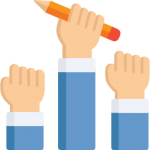 Having a website allows you to reach potential clients anywhere, any time of the day instantly without having your clients to physically come to office to verify your existent. It is more convenient for working clients. Plus, they come with strong buyer intent.
Reason 3. To do digital marketing
Living in the digital era, you need to build a bridge between your firm and digital technology. Although flyers and brochures are still relevant but seems to be less efficient. People prefer a more interactive and convenient way when they can access the information quickly via digital device.
Reason 3. To showcase expertise and provide knowledge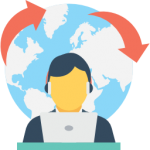 Website allows you to show and tell your potential clients what you're good at. They want to deal with lawyers who has knowledge of their common legal issues to handle their cases.
So, are you thinking of having a website right now? Before you started, let's have look at the important elements you need to have for your law firm website.
2. Important elements in web design for lawyer
Element 1: Value Proposition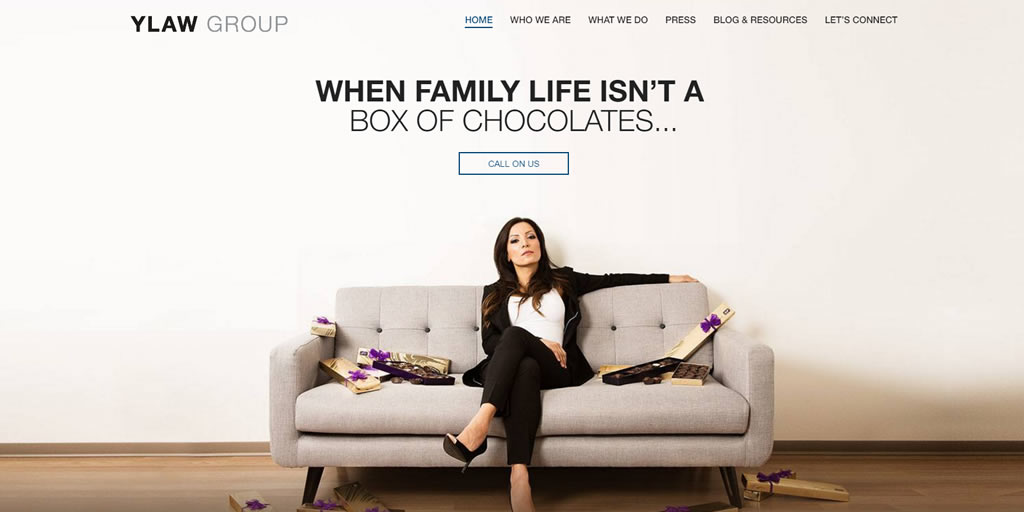 Your value proposition is the one that catches your potential client's eye in the first place. Having a clear value that matches their needs that will make them decide to stick around your page for a while. Like what YLAW Group did (see image above), the sentence "When Family Life Isn't a Box of Chocolates" really addressed a deep meaning to couples who seek for divorce.
Pages with clear value proposition can hold people's attention for much longer.
Image source: www.ylaw.ca
Element 2: Blog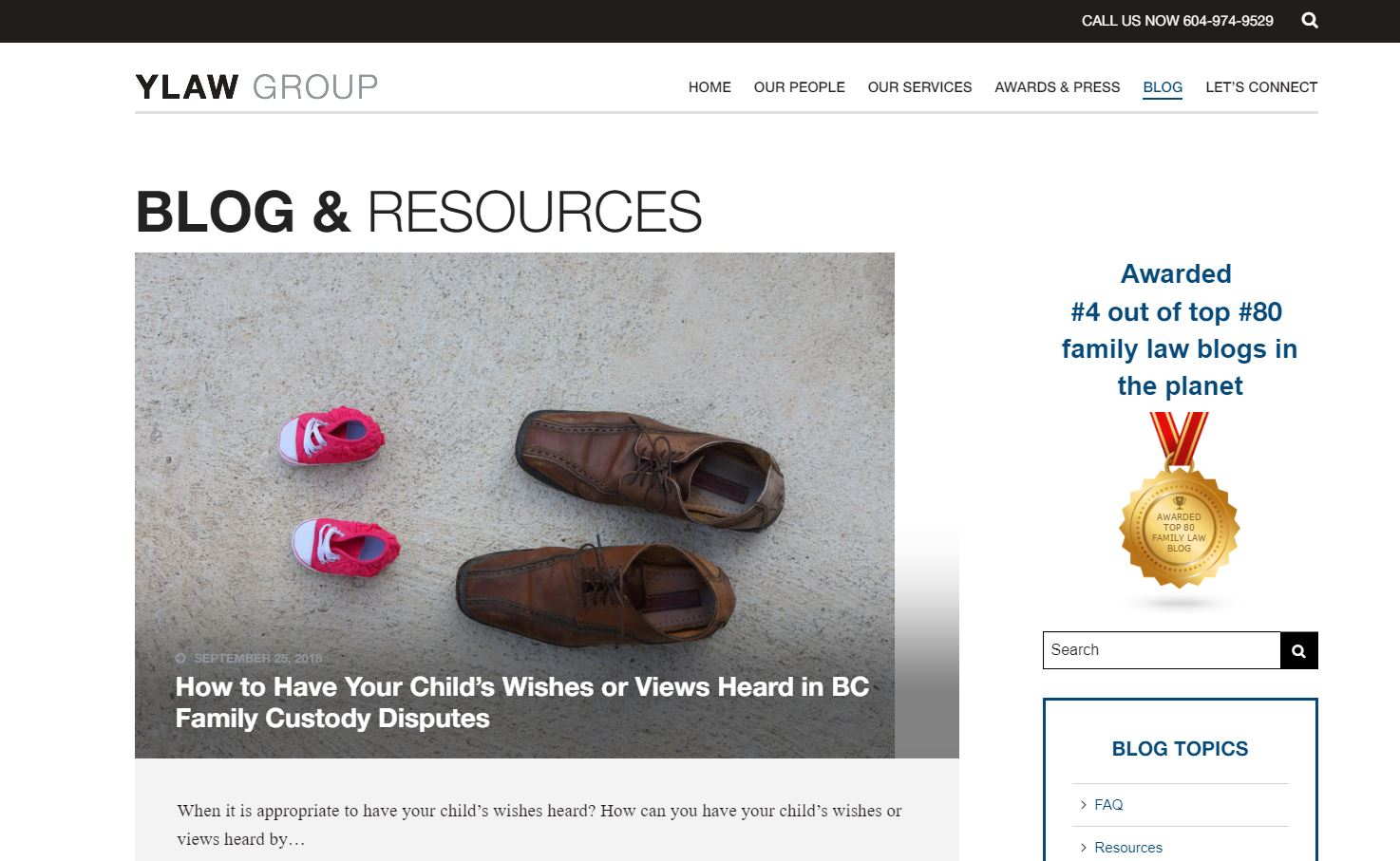 By blogging you can establish your authority (expertise, skills, and knowledge), build sales funnel and pull traffic from more keywords and sources. It is one of the essential recipes for your marketing strategy.
Create a topic that is helpful and shareable among your potential clients. It will be more visible if you could post it on your social media and let more people read your articles. The more people get in, the higher the chances to rank up on the search engine.
Image source: www.ylaw.ca
Element 3: Contact method (easy to find)
You have already worked very hard to get your potential clients to your website, so don't lose them when they're already thinking of hiring you. Make it as visible and convenient as possible.
Put your contact button (call-to-action) everywhere, one at the top corner of your page, and at the bottom too. As possible as you can, don't let them leave without getting their contact information.
Image source: www.ylaw.ca
Element 4: Practice areas (be specific)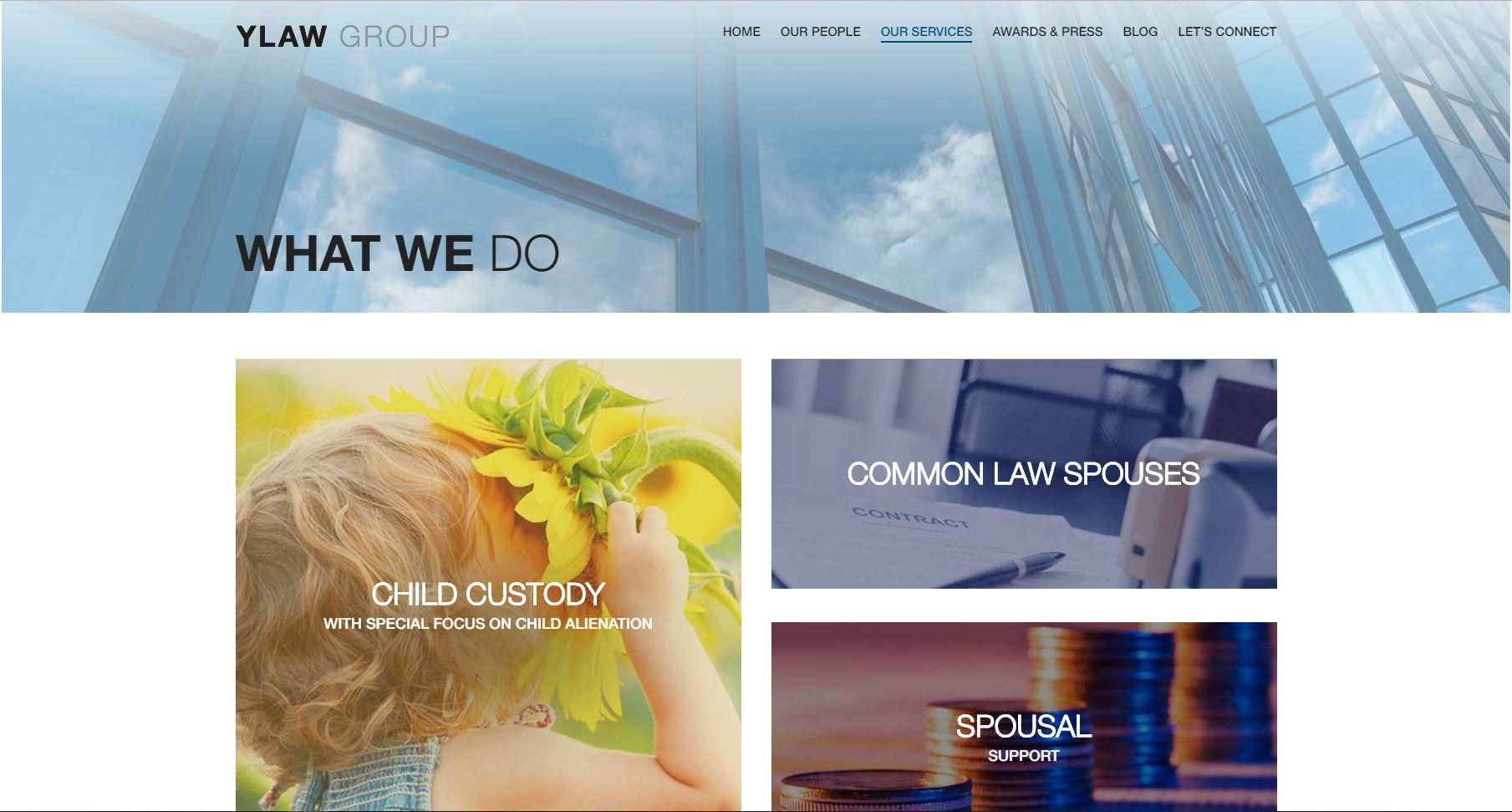 You have shown you're the expert that have skills and knowledge in this field (from the blog), now use your practice areas to add more to your level of expertise.
This will give more information about your law firm's specialties so that they know they're at the right place to sign in.
Eg: Homicide, Sex Crimes, Domestic violence, drug crimes, appeals, post-conviction litigation, bankruptcy, animal law, government contracts etc.
Image source: www.ylaw.ca
Element 5: Client testimonials (social proof)

Having testimonials make you even more trustworthy when there are third-party social proofs is satisfied with your quality legal services. Psychologically, your prospects can be convinced and tend to follow other people recommendations.
Image source: www.ylaw.ca
Element 6: Consistent Branding (logo, color scheme,)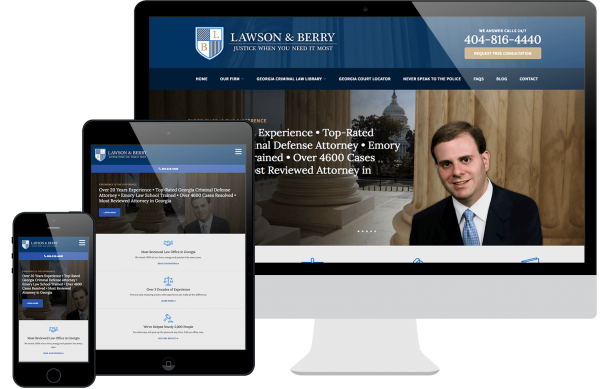 To make your prospects remember and recognize your firm, be sure to keep your brand's tone and personality consistent across the pages. That should include your name, color scheme, and logo.
For colors, you might consider using blue as it symbolizes trust, loyalty, security, and authority. Blue also has the advantage of being generally acceptable in almost any shade. Eg: Blue, Grey and white.
Image source: https://www.lawlytics.com
Element 7: About Us page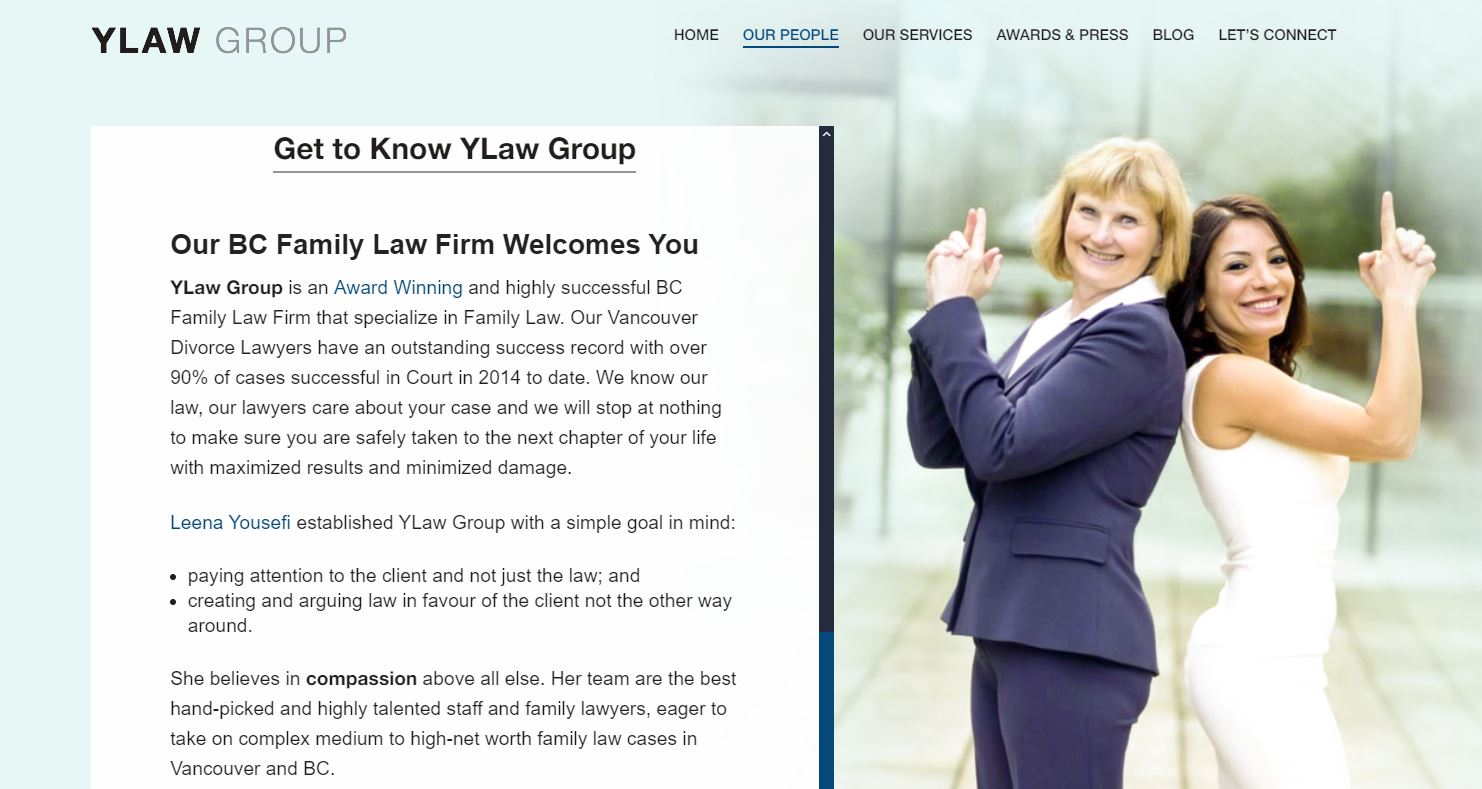 Write as you speak. A corporate-style copy can be boring and flowery. We want them to feel comfortable in our orbit – so be friendly. Get personal by using first person and second person narrative (I, We, Us, You) like we're actually talking face-to-face with them.
Image source: www.ylaw.ca
Element 8: Bios & background info on attorneys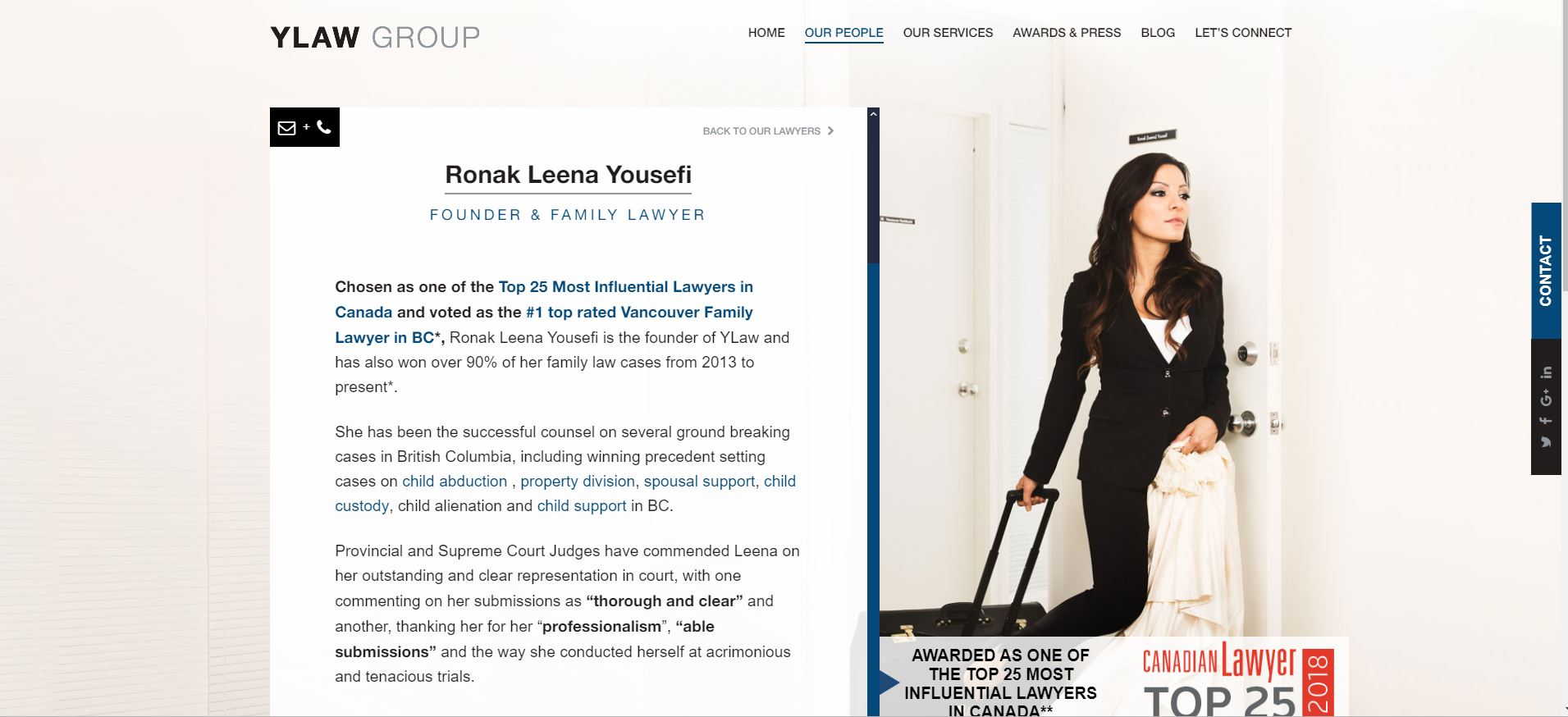 When your potential clients visit your website, they want to know more about who are they going to deal with – not some faceless corporate law firm. Include along the attorneys' photos, complete biographies, and credentials.
This will create trust and increases the chance of you getting a sign on.
Image source: www.ylaw.ca
Element 9: Case Results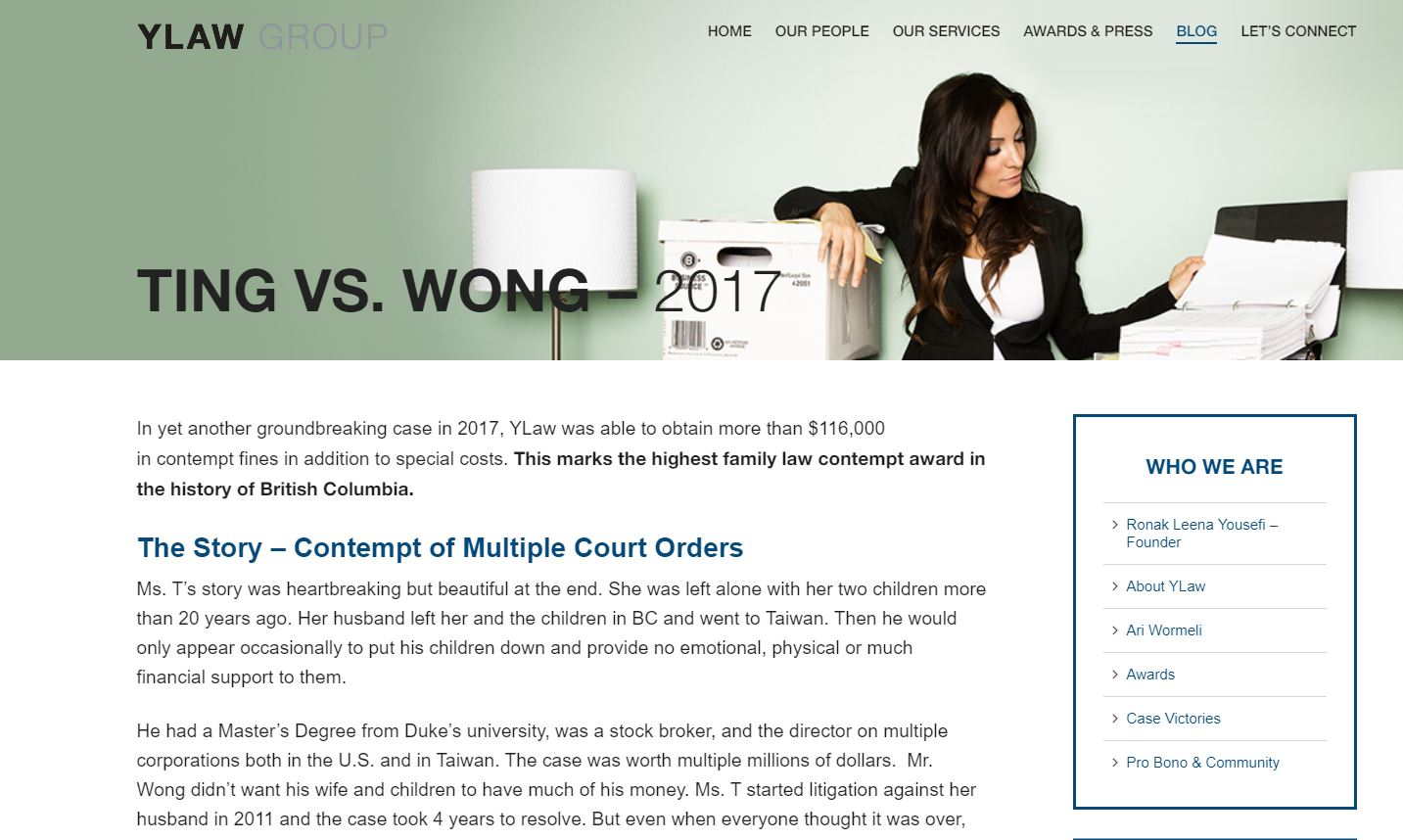 Having case results allows you to show your skills, knowledge, and experience. Prospects usually judge you based on your case you solved. Convince them with powerful case results.
Image source: www.ylaw.ca
3. Top premium template, web design for lawyer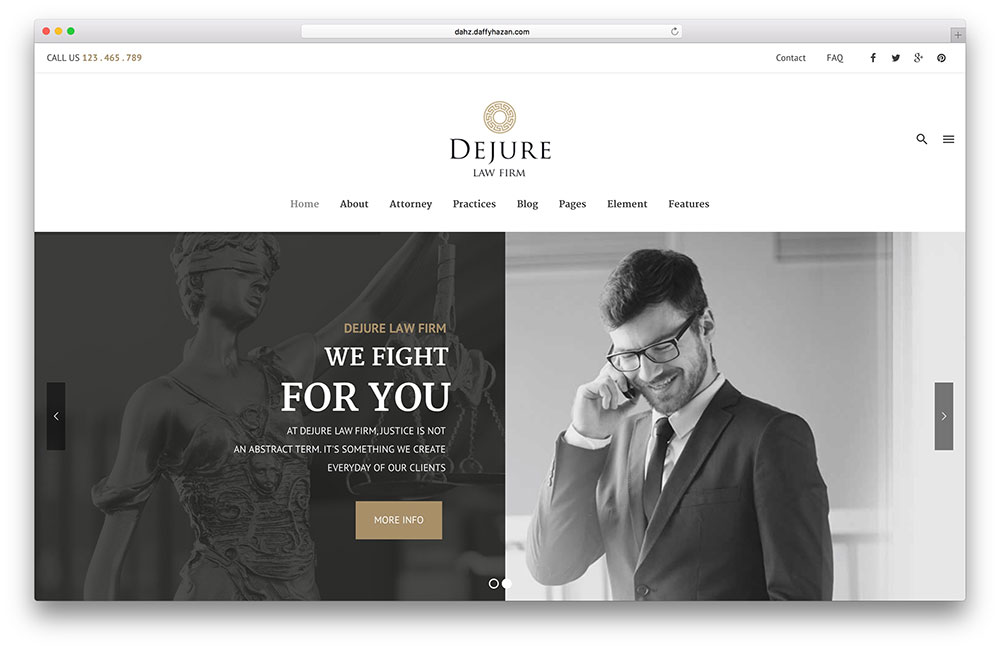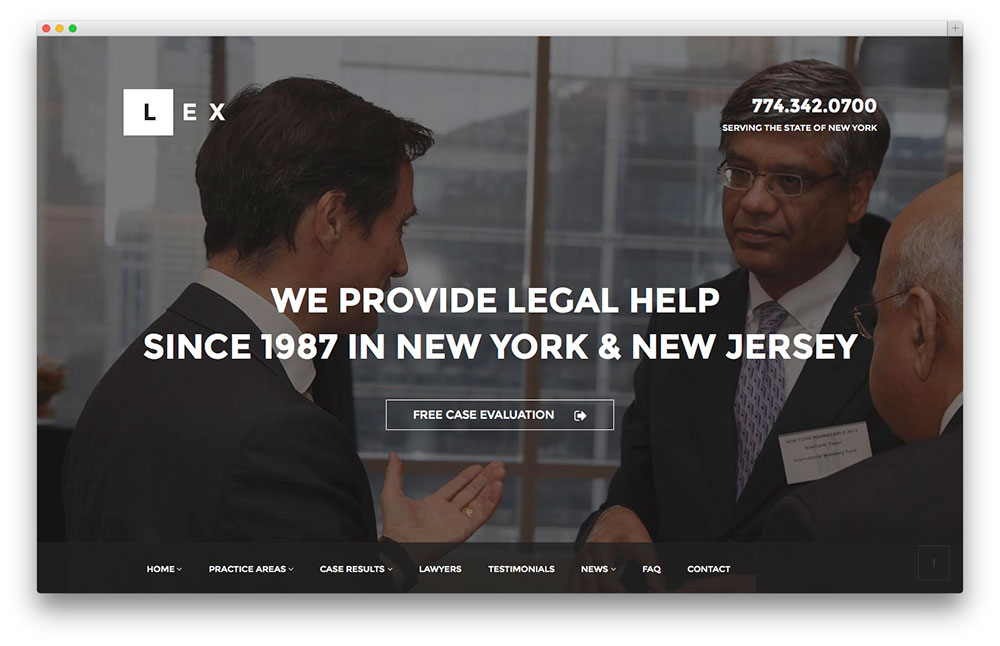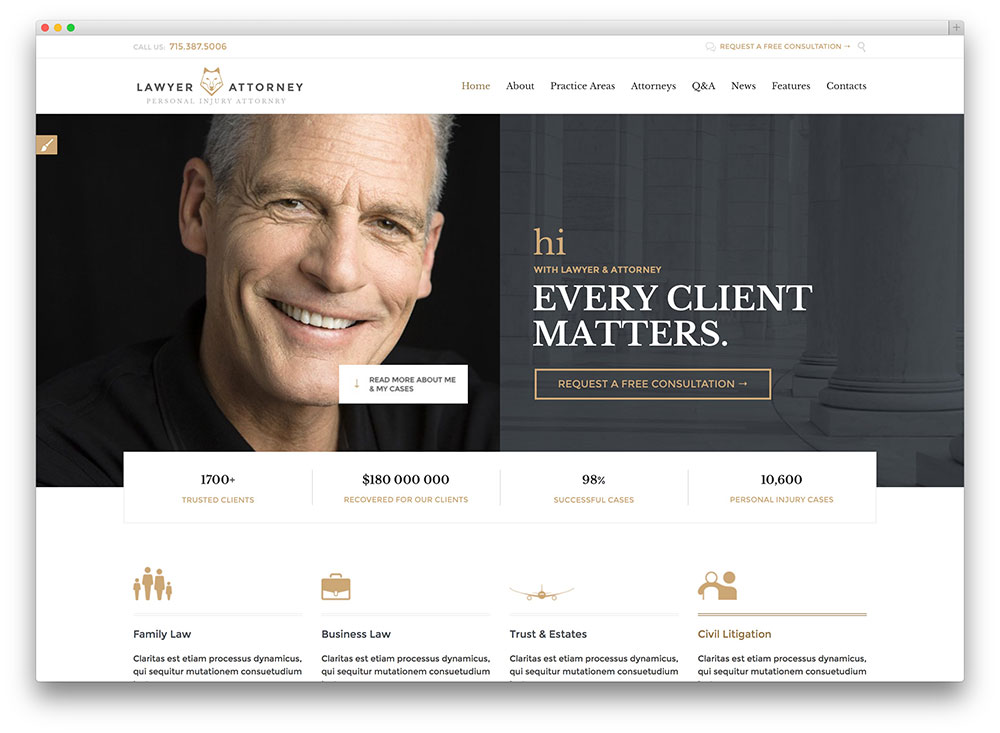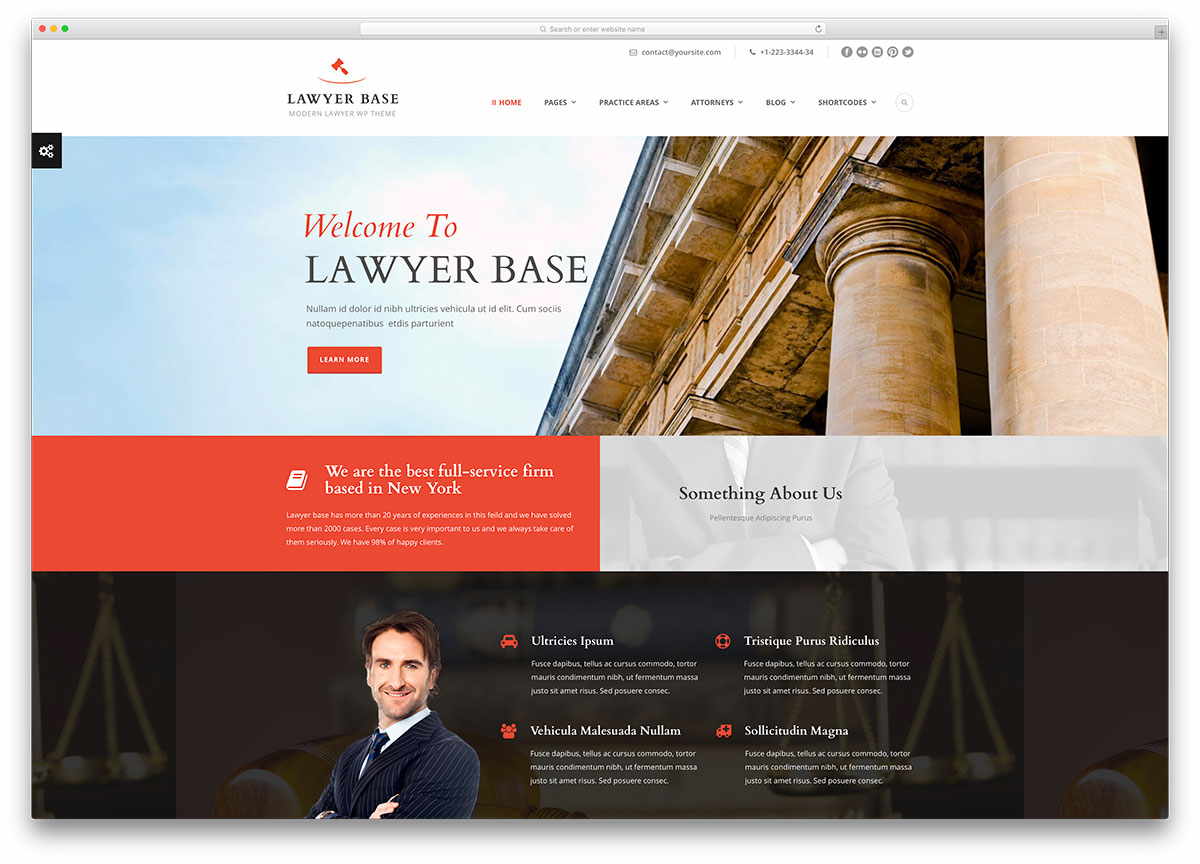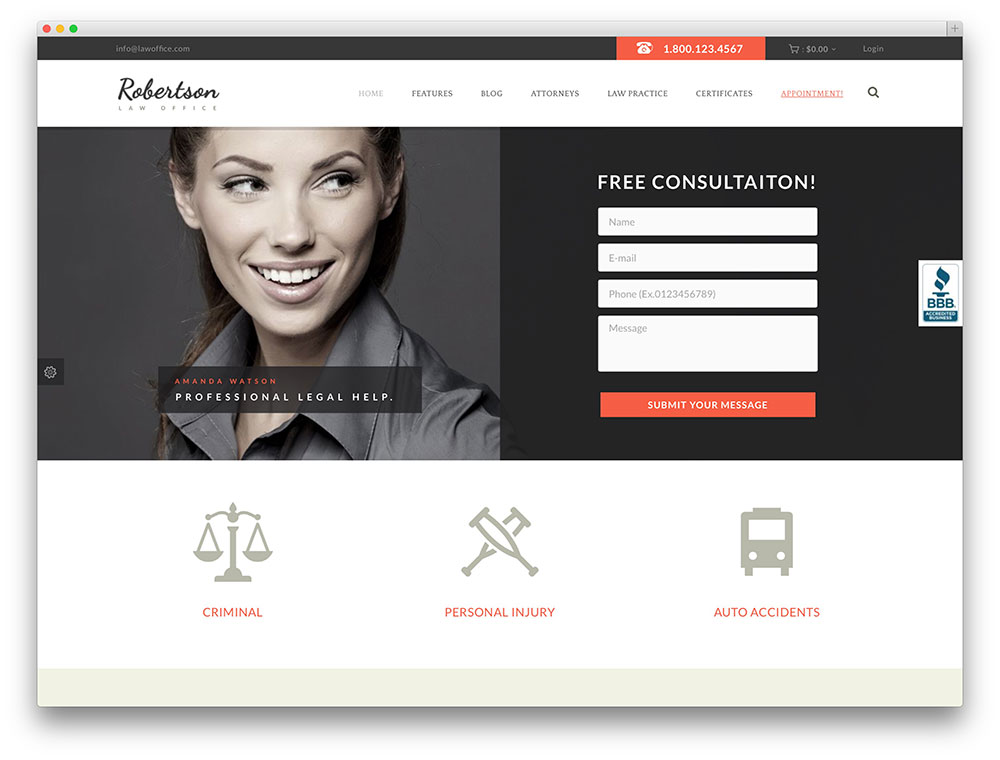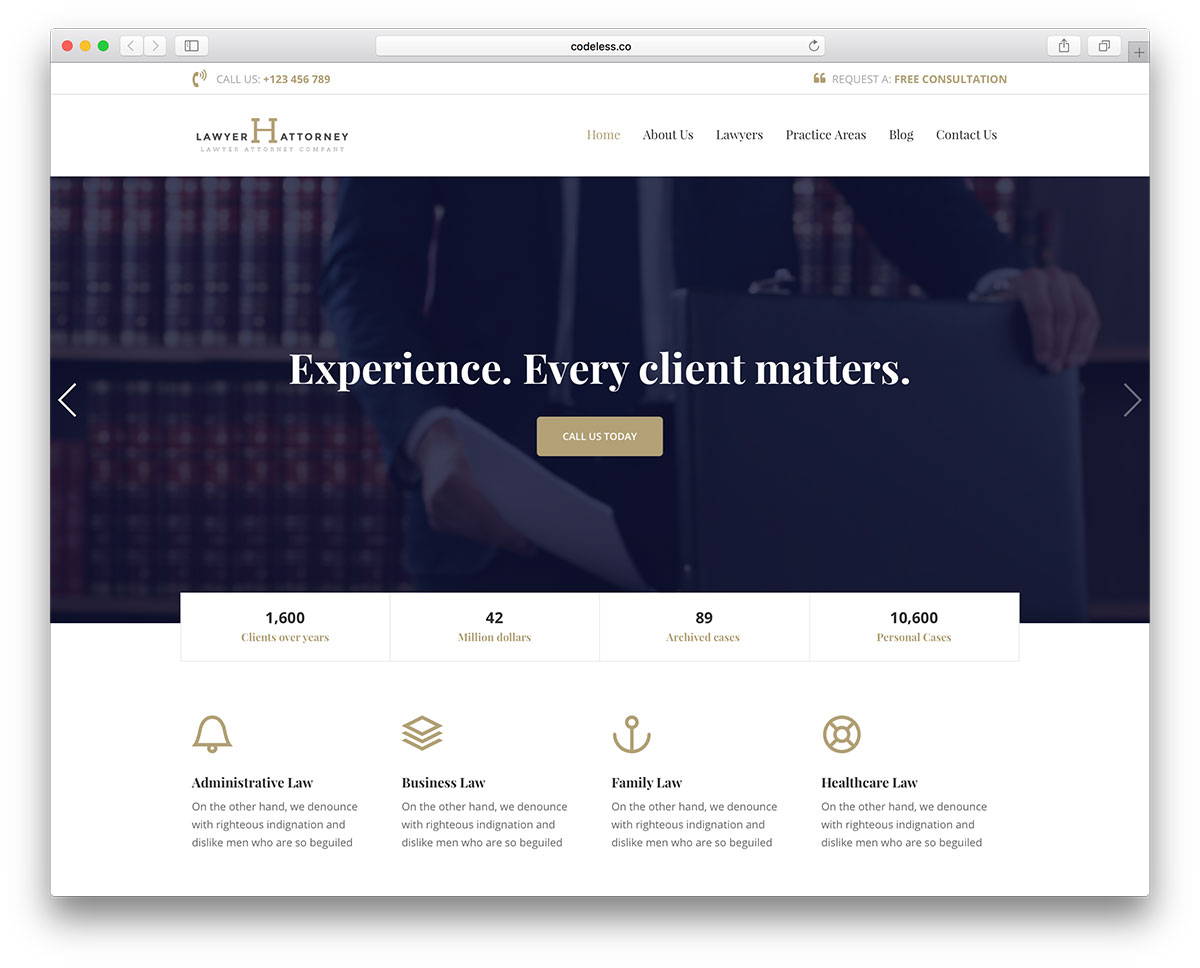 4. 7 Top Web Design Law Firm in Malaysia
Here, we've collected the top 7 web design lawyers from our local law firm in Malaysia that you can take as an inspiration.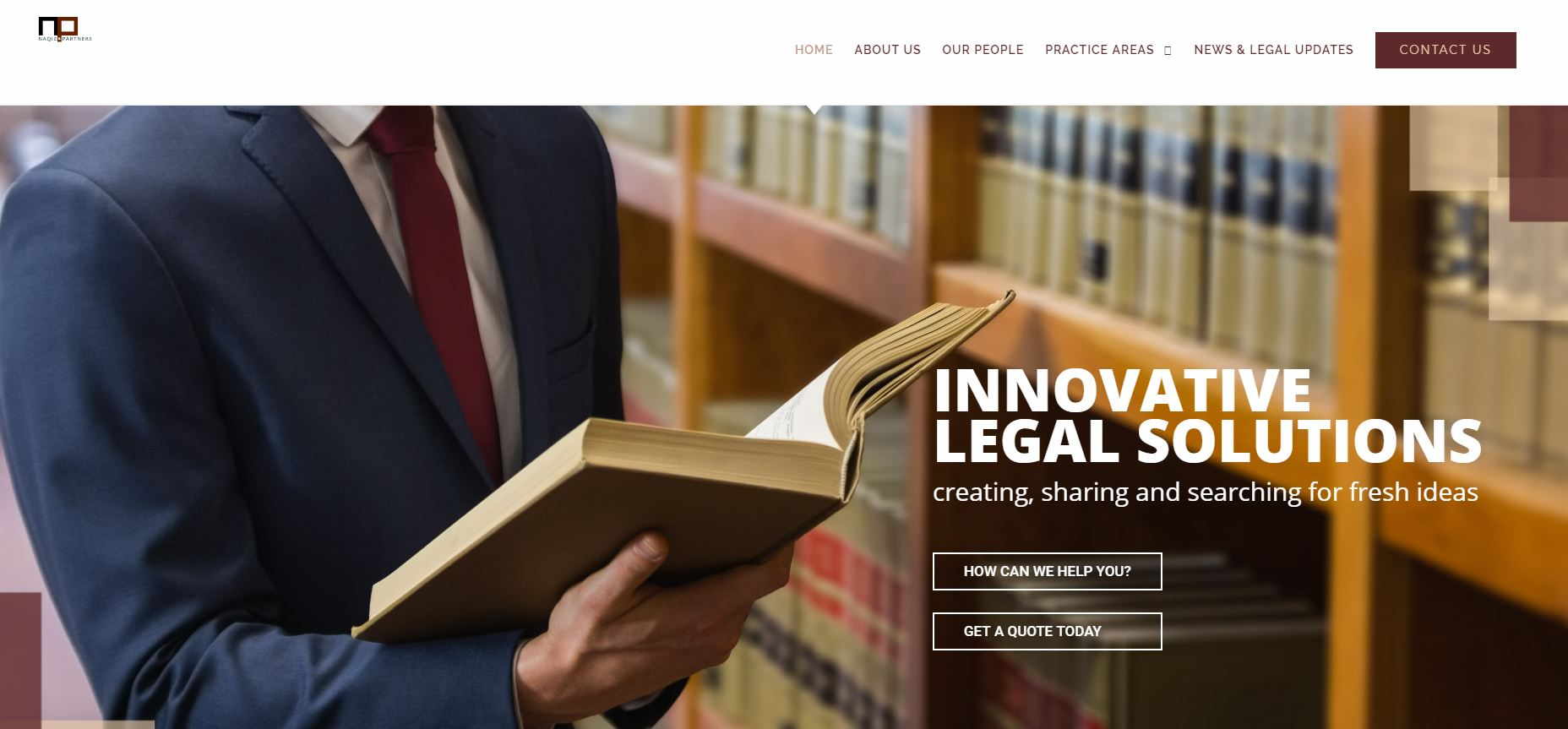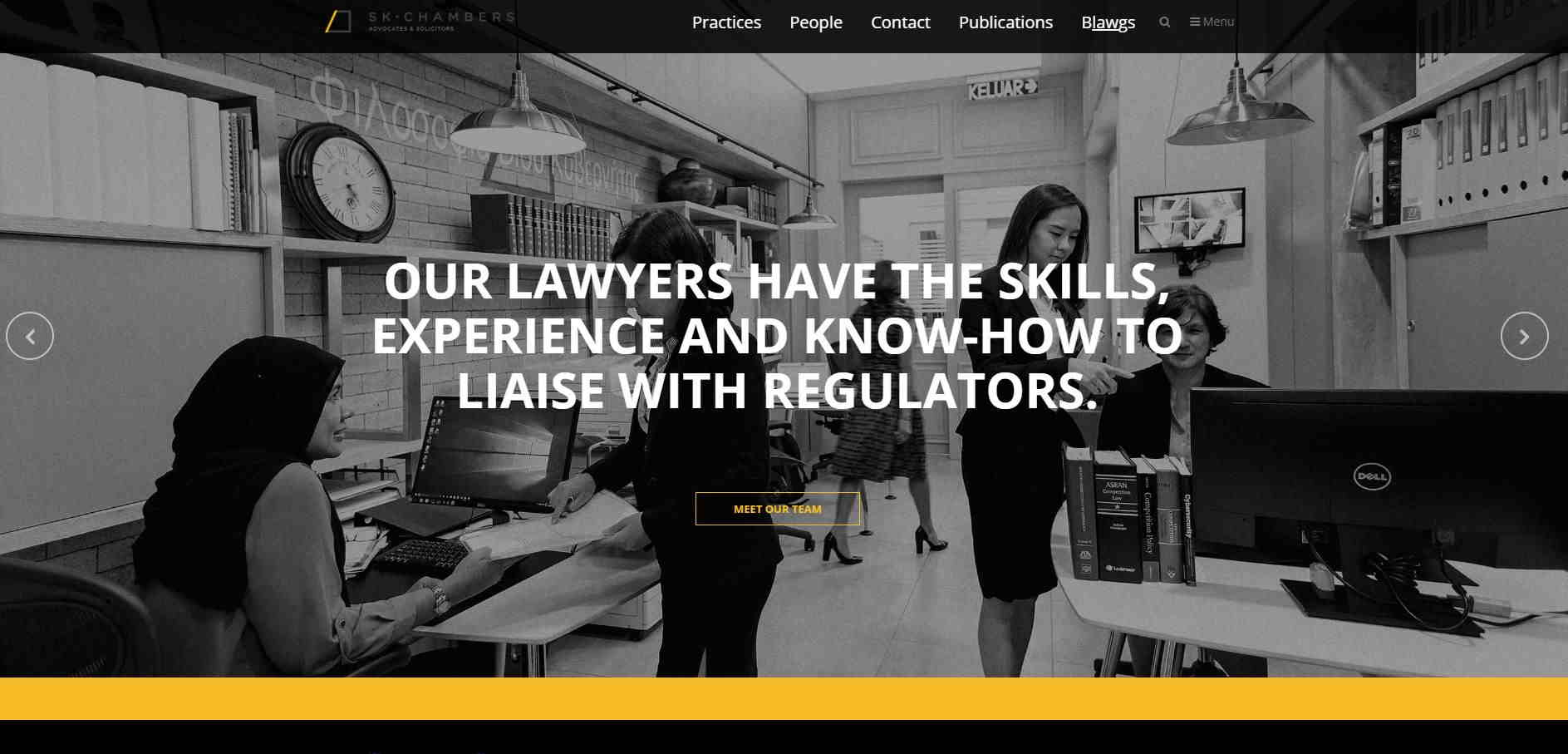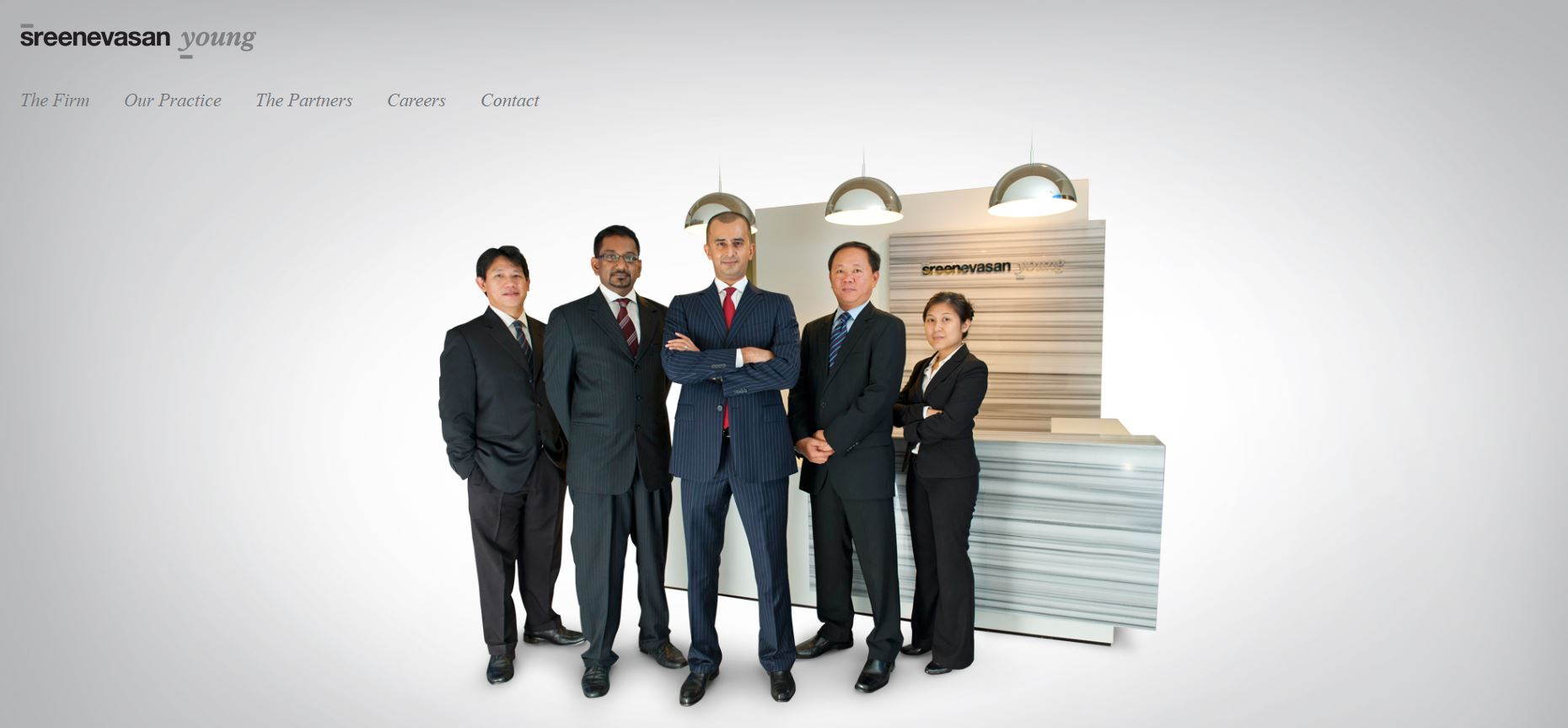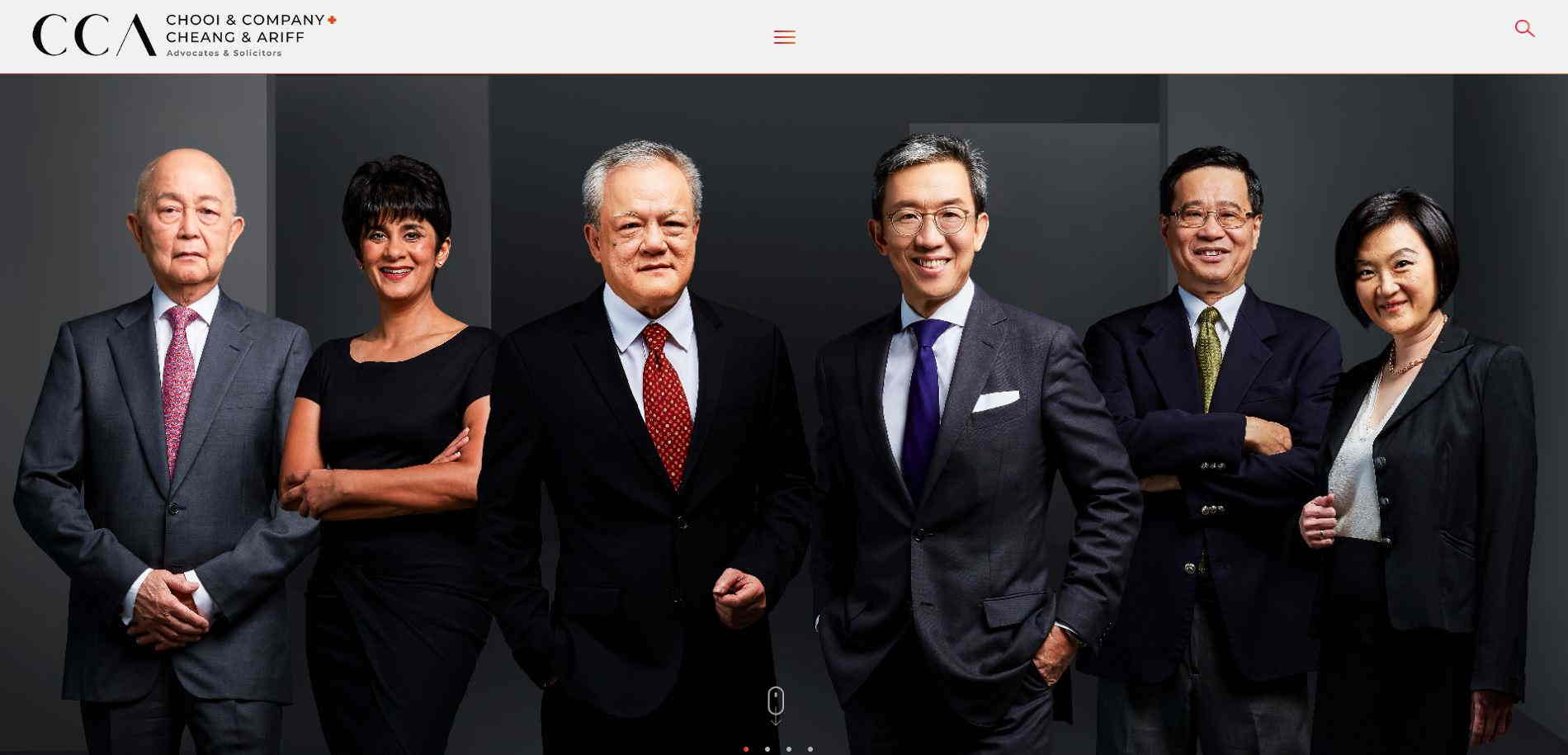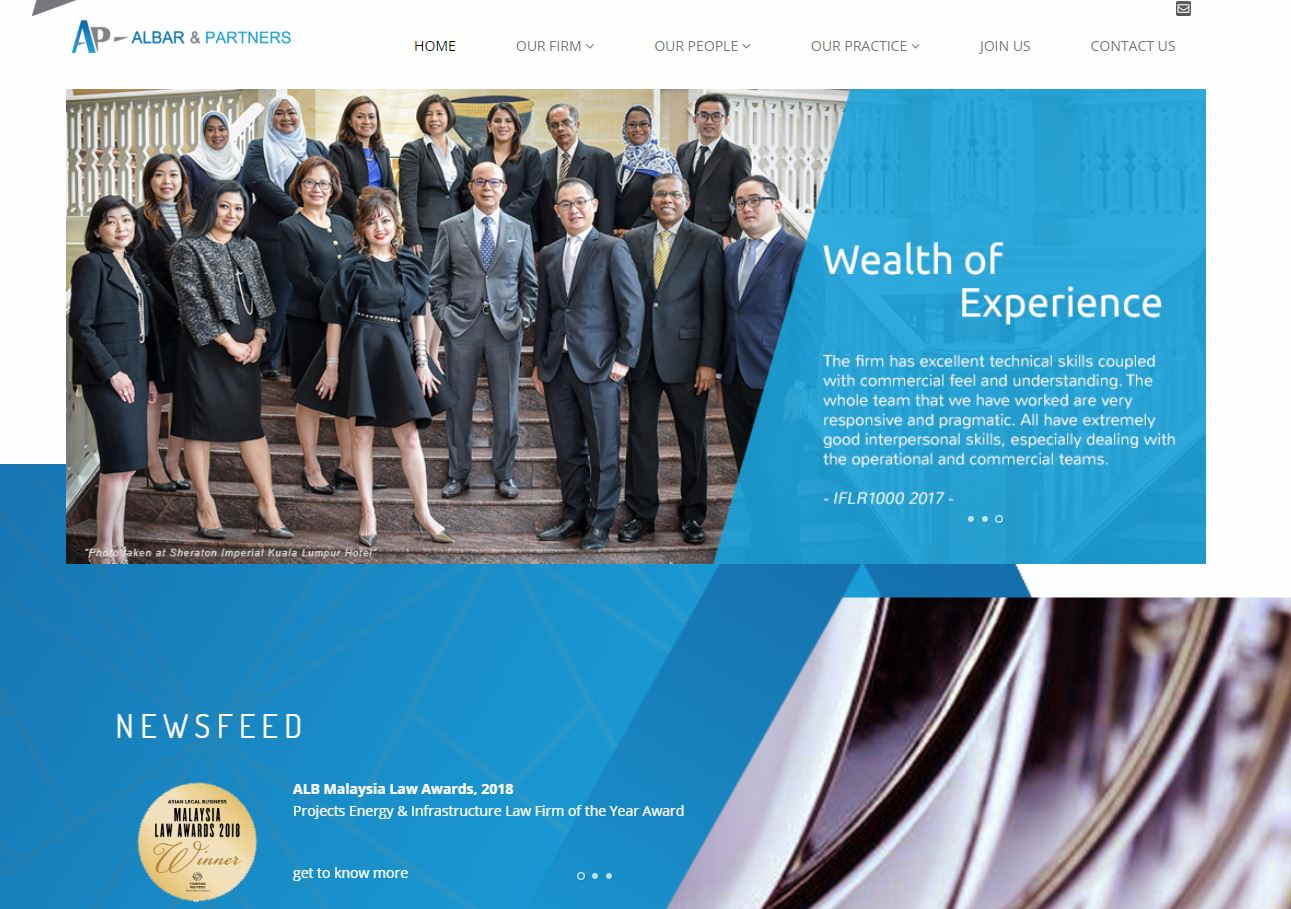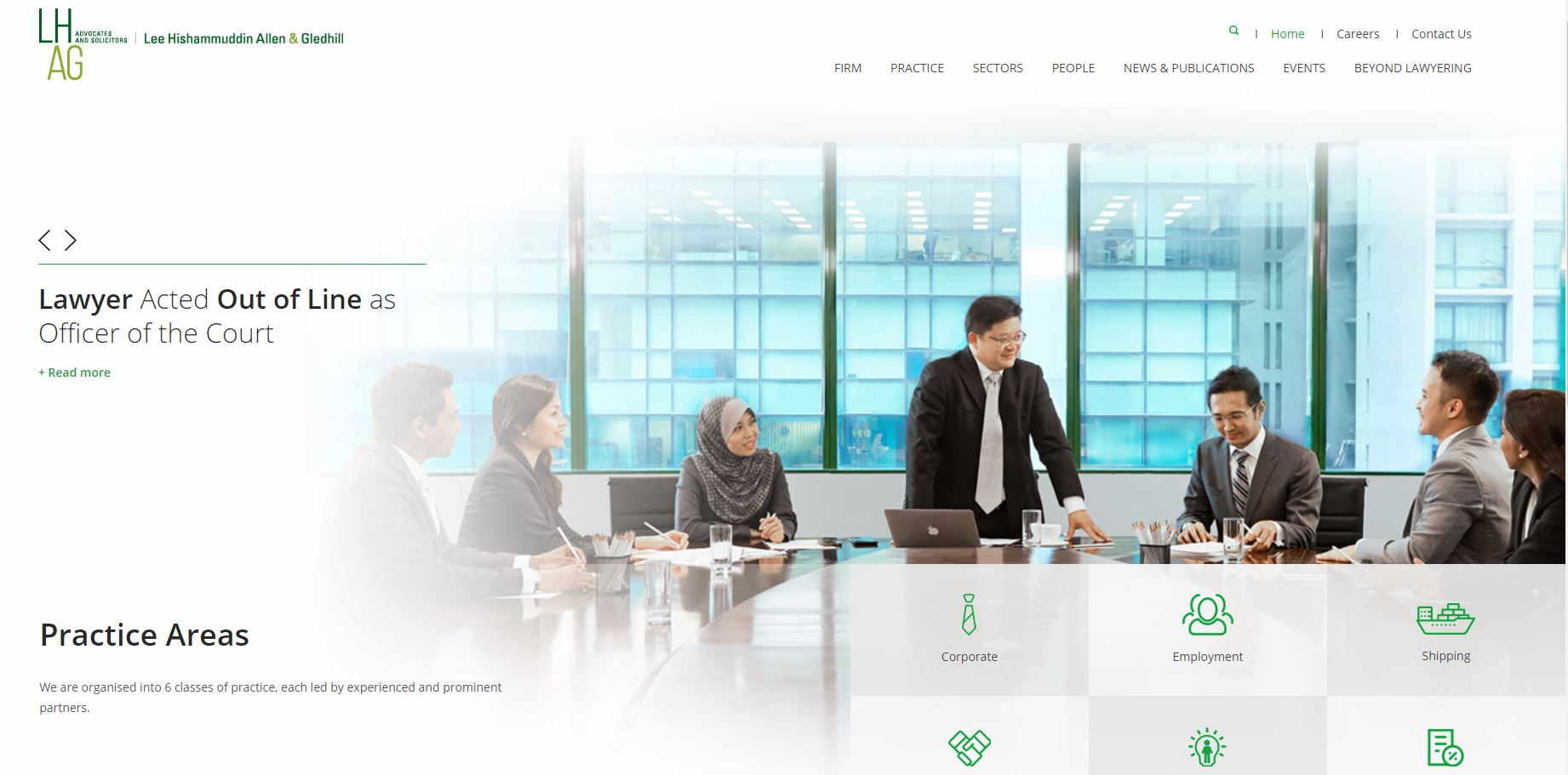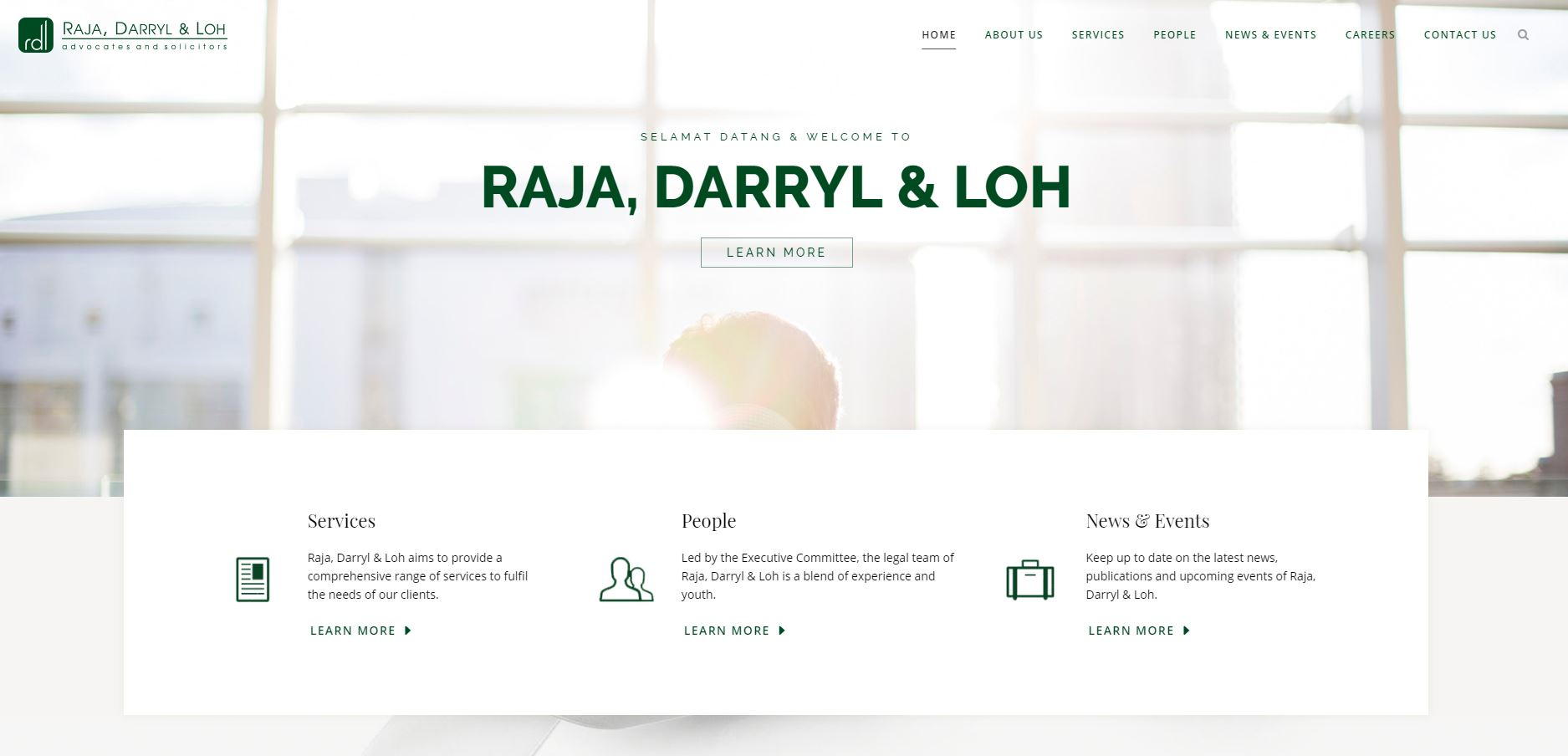 5. Example Sitemap – Web Design for Lawyer
A sitemap is a list of pages/content of your website. With this example of sitemap, it may help both your visitors and search engines to navigate your site.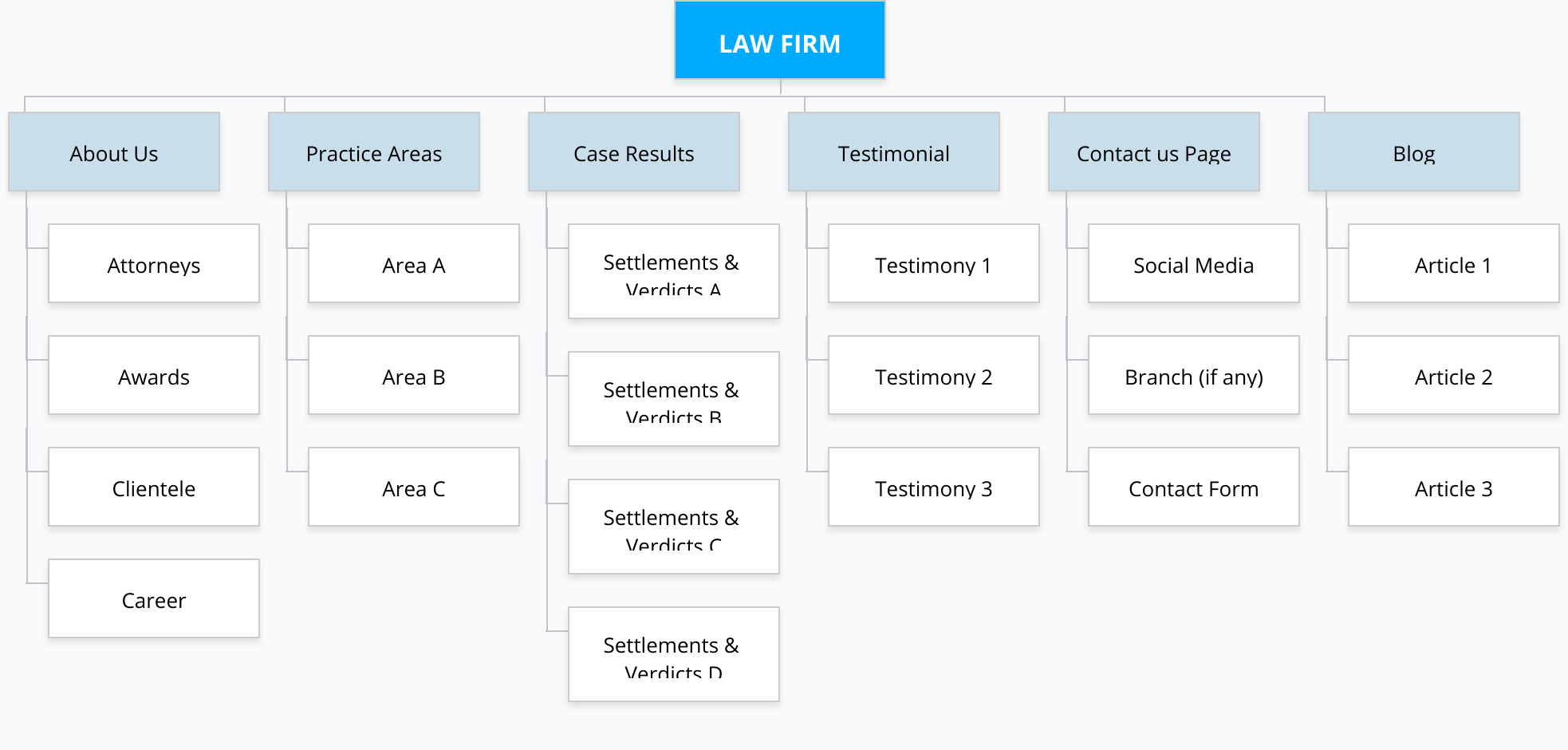 6. SEO – Web Design for Lawyer Keyword Difficulty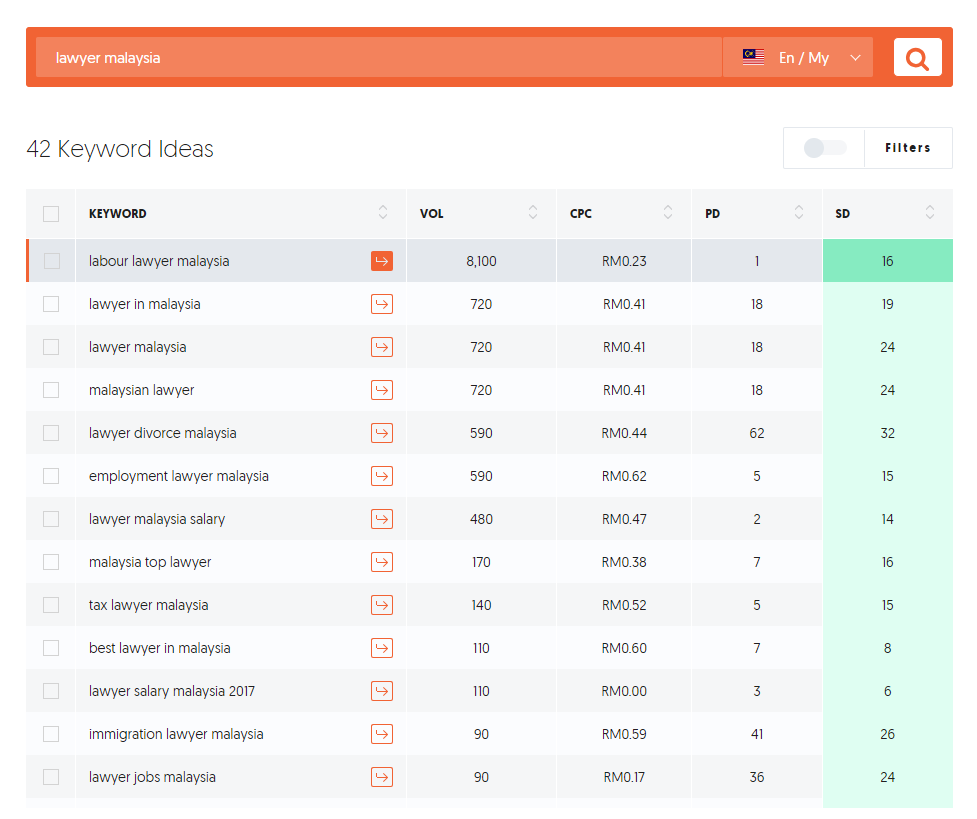 *From Ubersuggest 2.0*
First of all, let's have a look at the keyword. The highest volume of searches, 8100 visitors. However, they are pretty generic. The keyword "Lawyer Malaysia" can bring to a wide meaning and very vague. This is called a broad match keyword. Adding words in before or after the keyword can give you a different result, this is what we call "long tail keyword". Your keyword should be as specific as possible so that you can reach the right targeted prospects.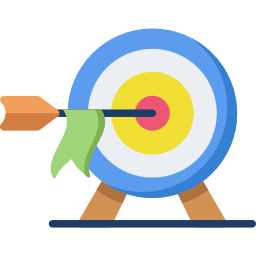 As we can see above, the keywords fall into 4 categories which are the lawyer in general, law firm, lawyer salary Malaysia for job seekers, and lawyer divorce Malaysia which clearly target couples who seek for divorce. For you, the lawyer in Malaysia is the keyword you want to rank.
But, if you want to focus on specific practice areas you might want to use keywords like "lawyer divorce Malaysia". The volume of searches is quite small compared to the generic one (590 vs 8100 searches) but again it is more specific, the people who search for the keyword comes with strong buyer intent.
Although the Cost-per-click is quite high, Rm 0.44 but it doesn't matter, you're not going to pay it now. The paid difficulty (PD) is quite high which is 62% making it highly competitive. Most importantly, the SEO difficulty as stated in the table is 32. Meaning you got like 68% chances to rank your website on search engine.
In Laman7, we do apply these two SEO techniques in developing our client's website.
7. Useful Advise you need to consider
Large high-quality photos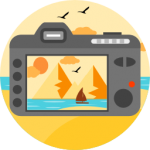 Use high quality photos of your past work to avoid looking unprofessional. It somehow presents your company's personality and the quality of your work.
You can hire a professional photographer to do it for you.
Since you're using high-resolution photos for your website, your website speed will slow down. So, you need to optimize your photos. You can use Riot Image Optimizer. It's free to download.
To make your project photos stand out, make sure it doesn't fight with the background. White is recommended.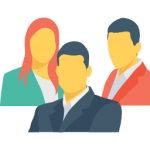 Put some human factor into your website. Let your prospects have a look with the people they'll be working with, know your peers and background. Not just showing off the work.
Let them know they're dealing with humans, not some Real Steel robots.
Be consistent in updating contents. When you update regularly, prospects know that your company is actively working on something.
Don't let your website be like an abandoned house.
Hire a professional web designer to build your website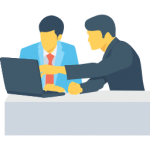 Hiring a professional may seem costly to invest, but the likelihood of success is higher than the initial cost. The professionals know what it has to take to make your website looks professional and this is important to gain credibility.
Here at Laman7, we focus on the conversion rates of your website. We do some research about your market and niche and come out with the latest design to fit in your prospects.
Build professional looking web design to gain trust
A professional website not only means the business owner concern about their business and their online image but also make create the feeling of trustworthy and safe to give their personal details and hire you.
Avoid flashes to avoid being seen as a scammer.
So, now you have seen how important it is for a construction company to have a website in order to grow to reach and leads.
Are you ready to build a website? Download the checklist below for free.
8. Checklist Web Design for Lawyer
WANT TO BUILD A WEBSITE?Download our checklist below for FREE.DOWNLOAD AS PDF
9. How to Integrate Website in Your Social Media Strategy
Picture of Facebook, Twitter, Instagram leading back to the website.
It goes without saying, in this day of age it's about soft selling, the medium of choice is Social Media. So you probably have a social media account for your firm, but how do you integrate into the website?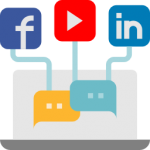 The best way for your law firm is to get traffic to your website and retarget them using Facebook Pixel or Google Ads Remarketing.
Law firms are similar to our nature, we serve businesses (or at least answer to a minimum of 2 people) for our services. So it's very hard to get sales from Social Media. However, that doesn't mean you can't have a piece of their mindshare.
For the first time, they land on your page, try to get at least 7 times (frequency) for 7 days straight (via Facebook ads or Google Ads). Leave an impression, make it memorable.
10. How to Choose Your Web Designer if you don't have web designer friends
Do they match your style?
Since art is in the eye of the beholder, you might want to pick a web designer whose style you favor. This is when you want to scroll down their portfolios and see whether the websites they've made for others look attractive to you.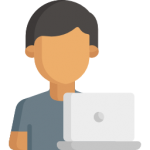 Not many web designer practice SEO in their design. A good web designer must have at least know the basic of SEO – if they don't find one.
They might be quite expensive, but if this adding value to your website so that your website gets high conversion rate and get ranked on the search engine, why not?
Do they have the knowledge, methods, and strategy 
It's important to ask them about their knowledge, methodology, and strategy to build your website. A good web designer will spend their time study about your needs, target market and your prospects.
It will be helpful too if they can also provide you with copywriting service. It's optional.
11. Summary, web design for lawyer
To sum up, web design for Law firm is not really an easy task. You need to consider 3 major factors:
Content – being your portfolio and images
Technical – the design and mechanics behind the website and lastly
Marketing – how do you intend to promote your website.
There's no point on having a website that does not generate any traffic or prospecting any interest.
Like this blog post? Save it to your timeline via Facebook or Twitter. Share with your peers or boss.
Good luck, Your Website Matters.
Get More LEADS Today!Your website can help reach your target audience while you are asleep. Start sleeping today and leave the boring bits to us​BUILD WEBSITE WITH LAMAN7