The average price for website design service in Malaysia is between RM 1,500 to RM 200,000 (and more). Whoaa, that's a big jump!
Firstly, no website is created equal. Ultimately, the price of a website is derived from the business problem. The bigger the problem, the more expensive it's going to cost.
(This post is a live document. I will keep adding content as I deemed fit.)
You can skip to any content by clicking on the link below.
1. Who is the Customer - Web Design Price Malaysia
2. Ask Yourself the Requirements
3. Custom Web Design or Packaged Web Design?
4. Web Design Package Pricing
5. Why Difference in Price between Web Designers?
6. What to Look for When Hiring Web Designers
7. Should You Go for Cheap Website (Below RM 1k)?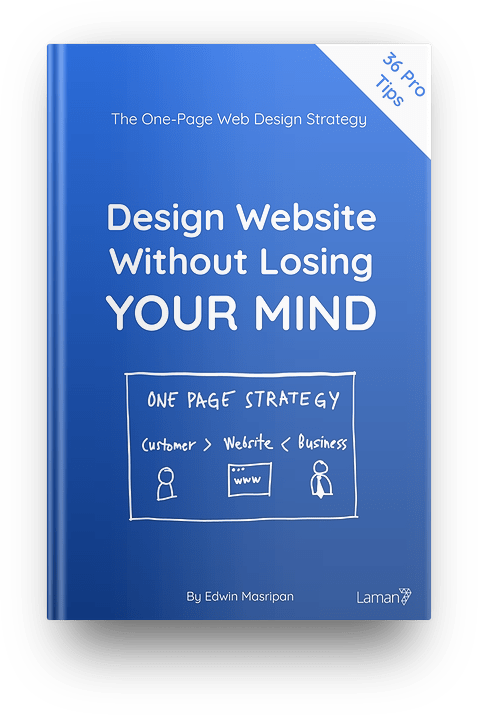 Build Better Website with our Free Web Design Strategy .
1. Who is the Customer - Web Design Price Malaysia
The bulk of price usually depends on who the customer is. We can split into three groups, government, corporate and small-medium business.
Government Web Design Price Malaysia
For Government agencies, expect the price to be in the hundreds of thousands. The amount is due to 3 main factors, Decision Makers, Size of Project and Slow Turnaround.
Usually, for Gov, the decision maker is not fixed, sometimes the head agrees, and staff doesn't, so back to the drawing board. For Size, typically gov websites have many pages, more pages = more service. And because of its slow turnaround in nature (longer than usual), other fees are incorporated into the pricing, i.e., interest on top of margin.
Corporate Web Design Price
The price for corporate ranges from RM 20k to 150k. The cost depends on three key factors, Content, Design and Features.
Content: Corporate likes to tell stories. These stories are not quick and cheap to make. It requires a different level of marketing maturity to write a good one.
Design: Some corporations have their CI (Corporate Identity), some doesn't but to be safe, the typical is 3-5 draft concepts before getting approved.
Features: They like to request advance which requires niche skills, i.e., API integrations, database restructure, fancy animation, etc.
Small-Medium Business (SMB) Web Design Price
The recommended selling price to these group is between RM 1.5k to RM 25k. Mostly depends on two factors, Quantity of Pages and Features
The number of pages is used as a guide to calculate the total sum for the website price. For one page website, it costs RM 1.5k. Adding more pages will add to the final price.
Adding more features to the CMS, the higher the cost will be. These features are due to software licensing and the services provided to customized this software.
It all comes down the requirements. Let's explore some basic requirements.
2. Ask Yourself the Requirements
Before you start any web design project, you must first understand what is it your honestly want from your website. By obeying the goal of the website, you can address the requirements with ease.
Below is some question you might want to ask:
Items
Description
Price Range
1. Domain
Depends whether you want local (.com.my) or international (.com, .net etc)
RM 50 - 200 per year
2. Hosting

Hosting will determine how fast your website loads. The nearer to users the quicker the website will be. There are two types (to make things simpler), shared hosting and private hosting.

Shared hosting means you are sharing with other websites. Typically slower and vulnerable to attacks (the same platform hosted other websites.)

Private hosting costs more, but you are alone in your platform. Lower risk to get attacks.

Shared Hosting:
from RM 150 per yearPrivate Hosting:
from RM 500 per year
3. Content Management System (CMS)

CMS is typically used to control the content of pages. The most popular CMS is WordPress, which runs nearly 33% of the entire internet!

The price mainly depends on the plugins used. Premium plugins can cost up to RM 1,000 per year license.

Setup Fee: RM 150 - 3500.
4. How Many Pages
The best way to go about this is by following your Company Profile. Typically SMB websites have about six pages. Home, About, Contact (address), Product, Services, Past Projects. These pages are the bare minimum for a corporate website.
RM 150 - 900 per page.
5. Design Concepts
Design concept or mockup are usually made to ensure that the end users understand how the website will look, "prototype" is another name for it. Typically only 3-5 pages are made per concept. A concept can take from a day to 2 weeks to complete.
from RM 1,500 per concept
6. Themes
Themes are great to save the cost of production and reduce the time to develop the website. These themes can be bought doing a simple search. There is also configurations, and some degree of the technical know-how is required.
from USD 60
7. Custom Hierarchy Content
(custom post type)

When you have a hierarchy of content, custom post types is used.  for example:

Product Category A > Subcategory 1
Product Category A > Subcategory 2
Product Category B > Subcategory 3
Product Category B > Subcategory 4

The best case is for a business that has many products, e.g., Nestle family. Also known as Custom Post Type.

Setup Fee: from RM 500

Data Entry: from RM 50 per page

8. Photography
"A picture is worth a thousand words." Custom photos can go a long way for your branding. It looks more personalized and professional.
from RM 1,500 per session
9. Copywriting
Writing content is easy, but 'sellable' content that's going to win the sales is not. Hiring professional writers will help your website look professional, market-centric and make your products feel closer to your audience.
from RM 500 per page
10. Online Payment

You'd like to receive payment from the customer? Whether it's for online booking, payment for a product or accepting donations, this is for you.

Rigorous testing is required to ensure that money doesn't flow the wrong way.

Setup Fee: from RM 2,500
11. SEO Ready & Optimized
Do you want to be Search Engine Ready? Having this enabled will have your website ranked on Search Engine in about three months. SEO allows you to tap into "free traffic" to your website.

Setup Fee: from RM500

Retainer Fee: from RM 1k

12. Maintenance

A website without maintenance is like a car without a change of engine oil. It will run, but it'll also die quickly. Website Support is the most common problem businesses have when it comes to their website, lack of maintenance.

Maintenance Usually covers the following

WordPress & Plugin Update
Check for Error, Attacks, Spam and remove/prevent it
Adding more content to the website
Troubleshoot for errors

from RM 150 per month
13. Backup Current Content
Typically when a project completes, a web designer will keep a copy of the website in case of any error. It's best to keep a copy of the website every single month so that when you restore, it's closest to the latest version.
from RM 20 per month
3. Custom Web Design or Packaged Web Design?
Web Design Package is standard practice for a web design agency. Web design jargons can be confusing, and there are many elements required to run a website. To make it simple, these elements are packaged.
Custom Web Designs are usually more expensive as more effort are pour into it. Whereas Packaged Web Design typically uses a pre-made theme and plugin so they (web designers) can build it quicker by changing the text and images.
Choose Custom Website - when your business is stable. Meaning, you have a good number of people working for you, revenue is consistent every month, and you want to edge out your competitors. Don't build a Custom Website if you're testing out a business idea. Startups often make this mistake when building a website (unless you're an online startup).
Use our Website Estimator Tool to know how much custom website costs.
Choose Packaged Web Design - when you want an MVP (minimum viable product) or to prove that you exist. Don't choose Packaged Web Design to save money (if you're a large corporation) or already own a website. Being cheap is going to bury your branding in the long run.
4. Web Design Package Pricing
Web design package differs from a web design agency to another. This difference mostly depends on what services are rendered and plugin/tools used. I can speak for everyone but here's our Web Design Package (as for 2018).
One Page Website Price - from RM 1598

Suitable for Startup. You want to test an idea or have a straightforward website to showcase your products and location.
Great for Restaurants - showcase your menu & location
Great for Small Printing - show your printing rate & location

What You Get:

1 Page Website
WordPress setup. Includes Premium Plugin
(optimized for marketing and speed)
Hosted on SSD Cloud servers (super fast)
Custom Web Design Mockup
SEO Ready & Google Analytics installed
Contact Form & Google Map Location
Mobile Responsive Design and more

Basic Website Package Price - from RM 2998

Suitable for Growing business. Stable revenue and wants to improve branding.
Great for B2B companies - share your past works, certifications, partnership, clientele, about, products, etc.
Great consumer-facing business - share the joy you bring, unique angle, food selection, price rate, etc.

What You Get:

From 5 Page Website
WordPress setup. Includes Premium Plugin
(optimized for marketing and speed)
Hosted on SSD Cloud servers (super fast)
Custom Web Design Mockup
SEO Ready & Google Analytics installed
Contact Form & Google Map Location
Mobile Responsive Design and more

eCommerce Website Package - from RM 4998

Suitable for Growing business. Tested and able to sell products on Facebook, Instagram.
eCommerce is the best to automate your sales process instead of using private messages to 'close' a sale.
Great for consumer-facing business. Convenience for your customer and builds trust.

What You Get:

From 5 pages and 5 products.
WordPress WooCommerce setup. Includes Premium Plugin
(optimized for marketing and speed)
Hosted on SSD Cloud servers (super fast)
Custom Web Design Mockup
Online Payment integration
SEO Ready & Google Analytics installed
Contact Form & Google Map Location
Mobile Responsive Design
Want your website ASAP? Get the web design package from Laman7!
As mentioned before, packaged web design is for owners that don't want to deal with the technical hassle of pick-and-choose options. It's bundled with all the goodness of any website can give.
5. Why Difference in Price between Web Designers?
Web Designers is a service industry. The following is applied:
Experience - Mature web designers can build a high-quality website within a week (given the right content). They also know which is the best path to take to reduce risk in a project. They can communicate well, have a good command of project management, stable workflow, concise checklists and are generally passionate about the website technology. Beginner (below two years experience) are usually cheaper, but it comes at higher risks, like an incomplete job, unable to deliver on time, etc. These risks justify the low pricing.
Specialist Area - Every web designer would master a particular area. These areas include technical, marketing, design, User Experience, Copywriting, Animations and more. The more specialized they are, the more expensive it would be to hire them.
Tools used - Software and Hardware can run into thousands. Some are a one-time payment; some are monthly.
Demand - It will be expensive to hire a web designer that is busy with huge projects.
Size of Agency - The more significant the agency, the higher the cost. The cost is due to the number of overhead in the agency. You have a back up if the person in charge is on leave. Unlike hiring freelancer.
6. What to Look for When Hiring Web Designers
Finding a website design company is not hard these days, the question is, are they right for you?
Well, here are some pointers before hiring one
Pointers
Explanation
1. Assessing Your Risks

The risk associated are usually two, incomplete job and an extended deadline. The problem typically happens when you work with a small team or freelancer. If there's no deadline, then you can proceed with a cheaper alternative. Do ask;

Who is going to build the website?
How will you build it?
What's the timeline?
Whom to contact for any problem related to the website?

How is the support?
What's your server uptime?
How do I know the progress of the website?
Do you provide a staging server?

2. Communication Skills
 Communication should be clear and concise. Meaning, if you say A, they understand A. Likewise for B and so forth. It doesn't matter if it's on Whatsapp Group, email or phone call. They have to know and similarly, you must try to understand what they mean. Drawing from my own experience, most of my failures in web design projects are typically due to miscommunication.
3. Meeting the Budget

Don't get offended if web designer asks for your budget. They are not trying to jack the price to rob your money but instead finding the best ways to spend it. Always be upfront with your budget and be willing to part with it.

Pro Tip: You can always haggle with Top Web Designers, as long as you are upfront with your budget. They will level with you and provide a leaner option.

4. Projects at Hand

Too many projects at hand are both good and bad. Good because they are in demand, they are good at what they do. Bad, means they have lesser time to spend on your project.

Low project count is good because these designers have time for your project but it may also signal a reputation.

5. Portfolio

By now you should realize that producing a mockup will cost you. Not many web designer wants to give this away for free (anymore). Web Design is an art form; no artist is willing to give for free.

Do request for the latest portfolio, because sometimes the projects listed on the website is not updated or signed NDA not to reveal any work related to the customer.

Assessing the portfolio is a great way to know whether the designer reflects your branding image, design style, and taste. If it doesn't resonate with you, find someone else.

Pro Tip: Any web designer can deliver a job, the difference is design style, technical ability, and marketing know-how

6. Workflow

At some point you do have to hand over some images and content that you have for the website, it's essential to establish a workflow between you and the web designer. Workflow can exist in many forms such as checklists, flowcharts, project management tracker, post-it notes, documentation and so forth.

Workflow can help manage tasks, inform of project updates, anticipate changes and due dates. In short, Workflow is a plan.

Pro Tip: Do ask for a workflow. You are running a business; you want your project to be in order.

7. Show Examples

Describing how your website to look like is hard if you don't understand the designer's lingo. The best way to go about this is present to them a few examples of how your dream website would look.

Do ask them if it's possible to build/design based on the budget you have. The examples would act as a gate that protects your interest.

8. Digital Marketing Know-How

Digital marketing is the hardest to assess as many web designers are aware of it. The first thing you might want to do is check their marketing plan. Do check their social media and blog post. When is the latest, how often do they share, what do they share.

Your website is your investment towards marketing; they have to get it right, else money down the drain.

Pro Tip: Ask where they learn digital marketing.

9. Online Reputation

Testimonials & Portfolios can be made up, but not online reputation.

Do check how many stars they get on Facebook Review and Google place. Given the ratings might have been by their family and friends, but that takes a lot more effort than crafting testimonials.
7. Should You Go for Cheap Website (Below RM 1k)?
Yes. You're just starting up a business, and you don't want to burn a hole in your pocket. You can start with a free medium like WordPress.com and Blogspot. Also, don't forget social media, the crowds are still there, but it can be a bit harder to navigate these days (gain more followers).
No. If you're in a growth stage, meaning you have stable revenue, you should be focusing on branding. Branding is your platform. It's what people know you for, and no one can take that away from you. To be successful, you have to be unique, fulfill customer's desire and break all the rules to win. You can't go to war with a kitchen knife.
How Much Should I Spend on Website?
There's no exact science to this, but I'd like to take Telcos for example (Maxis, Celcom, Digi, Umobile). They generally invest 17% of Revenue for Marketing.
You should be spending about 7-15% of your revenue on marketing. Take a portion (let's say 30% of that) to pay on your website. The rest should go to ads and overhead.
Sample Calculation: RM 1 Million Annual Revenue. 7% of RM 1 million = RM 70k. 30% (goes to website) of RM 70k = RM 21k. You should cap your budget at RM 21k and spend some to get more traffic into the website like Facebook Ads and Google Ads.
The conclusion of Web Design Price Malaysia
There are no straight answers when it comes to web design price. You have to know what you want and what you can achieve with your investment.
To recap, a startup should expect to pay around RM 3,000 - 5,000 and growing companies go around RM 4,000 - 25,000.
Best of luck to your business! Thank you for reading this.
Want to talk about your web design project? Hit me up!
Note: If you have any question, do leave in the comments below. I'll try my best to answer it.